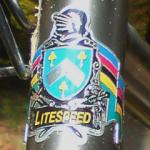 The weather was looking great today so I decided to go for it and do a long ride. First I set out into Meerdael forest to ride towards the Zoete Waters from where I made my way over Korbeek Dyle towards Duisburg. I decided to explore some new roads and, helped by my GPS, explored some trails I never rode before. At one point the trail ended into a field and when I started to cross the field to make it to a road I knew was there, I was halted by a company of hunters. They were not pleased to see me on the fields they were hunting in, since I was "scaring the wildlife". I didn't argue too much - they had guns, I didn't - but they let me continue towards the road I was aiming to reach. Behind me all hell broke lose - poor wildlife!
Onwards over nice trails towards Duisburg I rode, making a few loops when the road I was following didn't quite go into the direction I was supposed to go. But with the GPS I quickly discovered other routes and how to get there. Into the Sonian Forest I made my way towards Jezus-Eik and further on towards the Chapel 'Welleriekende'.
There I could catch up with the Dreve des Bonniers that led me nicely to the track of the Nero route. This is a BLOSO route that starts in Hoeilaart and is some 25K long. I had decided to follow this BLOSO today. I could start directly on a singletrack section next to the railroad. They have been working here on the HST project for a few years now, but the first bit of singletrack can again be used. Further up the barriers still prevent further passage.

The few singletrack sections were really wet and dirty and at one point - a steep downhill not far from the Grote Hut - it was dangerous with deep wet ruts that forced me off the bike. I took the long version, taking me past the Queens' Chapel and then back towards the Dreve des Bonniers. The singletrack next to the Dreve Lorraine was great. When I connected back with my virtual starting point I decided to ride the old BigM beginners' loop towards Trois Fontaines. I had to think of my friend Minna at this point. She taught me all these routes a while back and I am very grateful to her for that. I remembered them well and when I arrived at Trois Fontaines I connected to another of Minnas' Loops, this one passing next to the Rouge Cloitre Abbey and then looping back towards Jezus-Eik. By now , I had almost 70K and I began to realize that I was undermining my chances of riding tomorrow. My back was starting to make itself feel and I still had nearly 20K to go.
Back towards Duisburg and then looping towards Korbeek Dyle again. Here I caught up with the Green Meerdael BLOSO which I followed all the way to Vaalbeek. From there it was only a few K's back home.
I had a great ride in glorious weather conditions. I mailed the organisers in Bierbeek that I would not attend their ride tomorrow. I am satisfied with my ride today but it has left me with more pain than I had bargained for. And since it has been a while that I did a 5-hour ride I am suspecting a lot of muscle aching tomorrow as well. At best I can hope for an easy recovery ride, probably on the rollers since rain is forecast to reach us by midnight.
Ride Stats

: 92K and 880/909 heightmeters (Polar/Garmin) in 4h50mins
8584/85040
25-10-2008, 20:38 geschreven door Big Bad Wolf