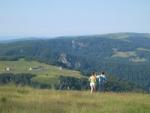 I have been thinking about going back to the Vosges. I had a great vacation there last year with my friend MB. Sadly she will not be able to join me again so it's up to me to make all the arrangments. I am looking at different scenarios but I would prefer renting a gite and making day trips from that base, like we did last year. At the worst I will live on pasta and broccoli for a week, ride the exact same programme like last year and still enjoy it thoroughly, I know myself ! This is plan B.
But whenever possible I would prefer to explore new routes, and for that you either need a guide or a GPS. There is a Belgium group that offers Shortbike arrangements, but I have been told they take the whole day to cover 35 to 60K.. So lots of rest and lunch breaks, which is NOT exactly my thing. I prefer biking without too much interruptions. Still, they offer local guides, 3 levels of difficulty with the toughest group hovering around 1500hm a day , possible transportation to and from La Bresse and a place to sleep for 320€. Two dates , both over May weekends. There is an option to provide your own transportation (I love to drive my car) and even your own housing (I am a very private person ) . I will possibley meet up with them next month since they will be with a little stand at the Zoenk organised ride.
I am also looking at French-speaking forums to see if there is something to be arranged through French holiday groups. Early days perhaps but it keeps me occupied. I lack the organisational skills of MB, and I will probably end up with the aforementioned plan B.

On the biking front I settled for a roller ride, one hour with 2 5-minute intervals at a higher speed. I had a good sweat while it is raining and very windy outside.
Ride Stats

: 23K in 1h02mins
282/2290
19-01-2008, 20:01 geschreven door Big Bad Wolf