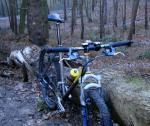 This morning saw temperatures of just above freezing so I waited until 10AM to ride out. I was in two minds about going offroad and I was also not sure what to do or where to ride . But just before I left the plan came to ride towards the Bois des Reves. A little forest next to Louvain La Neuve. There are some nice singletracks here and they are very steep and demanding some technical prowess to ride them well and keep the rubber side down. I decided to try and incorporate as much offroad tracks along the way towards Ottignies as I possibly could .
Not as easy as it sounds because I had to pass around Wavre - capital of Brabant Walloon - and even though there are some nice tracks in the urban environment, I rarely am able to find them.
The first bit was easy, into Meerdael Forest and then up towards Bossut. From Bossut I set towards Doiceau and then aimed for the Bois de Bercuit. The trails were moist with morning dew that froze over.
I know I needed to cross the Chaussee de Huy and I remembered a nice singletrack leading into Louvrange. So I took that and it gave me some surprising sight. The steep track passed a weird-looking house.
Looking at my GPS I saw that there was another track leading towards the E411 and judging from the tyre tracks I knew it wasn't a dead end. And indeed it was not. Making my way through the many little streets of Louvain-La-Neuve was not easy but I had a direction in mind and before long I was on the Avenue Baudouin 1er and from here I knew my way towards the little forest that waited for me.
Dropping down a trail along the Bois de Mormont and I was at the gates of the Bois des Reves. Here I did the "loop VTT" with some extras. The v-brakes on my bike were far from strong enough to control the bike on the short steep descents and into the switchbacks. A very good arena to train your technical prowess on the bike. But care has to be taken. After all, I was quite some distance from home and I did not want to fall or hurt myself or my bike.
Before long I decided I better head back and I left the Bois in the direction of Louvain-La-Neuve. Following the bikepath and a Adeps route I done before I made my way towards the Golf de Lauzelle and then towards Limal and Wavre.
Passing Walibi I tried an alternative uphill towards Bierges but I had to retrace my steps because it came to a dead end. nearing Rixensart I saw another track I could take and it incorporated a trickt descent into a valley along a singletrack filled up with leaves. Under the leaves all kinds of traps were waiting. Stones, ruts, branches and the occasional dropoff kept me busy. But I enjoyed it. Into the valley of the river Lasne and onwards towards Overijse. A steep climb brought me on the Blue Overijse Bloso track and I decided to follow this down into Tombeek. I followed the Bloso until I came at the Terlanen plateau. Here I switched over to the Green for a while and then decided to ride towards the Sint-Agatha-Rode bos. In a downhill disaster struck. I took a big blow with my rear wheel. I suspect some concrete block hidden under the leaves. Before long I stood still - snakebite. I tried my Pitstop but the holes were too big. So I needed to change the inner tyre and this took a while. I pumped up the tyre and moved on. The tyre was badly seated and it looked like my rear wheel had developed a serious twist. But my brakepads weren't indicating that my wheel was out of true. Strange. I would have to look at that when I got home. I rode on into the Sint-Agatha-Rode bos and then through Sint Agatha Rode towards Sint Joris Weert. Into Meerdael Forest again for a last stretch past the Kluis and then along the Denteneers pad back to the Weertse Dreef. Crossing that and a couple of forest tracks later I was on the Prosperdreef and nearly home.
A good ride with - as it turns out - a nice amount of climbing and some great tracks. Weather was fine as well. After a cold start the sun warmed me up nicely. The rear wheel turned out to be straight when I checked it after washing the bike. I put some pressure into my tyre and it popped into place. Always difficult to put enough pressure in a mountainbike tyre with a small pump along the way. I was glad my wheel was fine and also that my frame didn't suffer. It was quite a blow when I struck that stone or whatever it was.

Endomondo track


Ride Stats : 71K and 925/1010 heightmeters (Polar/Garmin) in 4h07min

12647/111540
10-12-2011, 17:37 geschreven door Big Bad Wolf