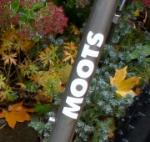 Lots of rain yesterday and also a good shower during the night made me put on every inch of watertight verstiment I could find. Gore tex jacket, watertight Sealskinz socks and Pearl Izumi AmFib overpants. Put the Lupine Tesla4 on my helmet because I was leaving in the darkness to reconnoittre the 65K distance. The organisation asks me for help every year and this way I can couple being useful with still being able to ride alone for almost an hour and a half before I am overtaken by the first starters on the longest distances.
Leaving at 7.15am at The Borre I could make good use of my helmet light. The forest trails were wet, dark and slippery , with the cobbles being real deathtraps for the unaware. The first loop up till the first rest stop in Gottechain cost me about an hour for 17K . I didn't take any risks and even though it was wet it was not too cold which made for a fine ride. I was cozy inside my layers of clothing and I didn't want to sweat any more than necessary either.
Meerdael Forest was glistening and a little fog was rolling here and there when the sun rose behind dark clouds. It would certainly rain some more during the next couple of hours. When I passed the first rest stop - located in Gottechain - things got serious whilst the loop continued towards Cocrou. A steep uphill with roots and other niceties, followed by a dangerous downhill on slippery cobbles. There were a lot of scouts wandering around on these trails - boys and girls - and they were all very nice and friendly. They were probably wondering why someone would choose to ride a bike through all the muck. To be honest, I was wondering that myself from time to time today. But as long as it stayed dry, I could cope with the wet and muddy trails. A beautiful loop upwards going to the 2 Sartes where the 55K split off from the 65K distance . A bit further the track turned into Heze for a downhill on tarmac followed by a sharp left and a long long climb - first on cobbles, later on dirt - took me towards the Chapelle du Chenau in Longueville.
From Longueville I rode back down into the valley of a little river in the Bois de Glabais. This little rivulet runs along the track and I chose to ride in the water. Cleaning my bike and chain a bit, but also my disc brakes. In this valley I was passed by the first rider of the 65K. He must have started really early or ride with considerable speed. He was fast in passing me I can attest to that. Down into Basse Bonlez on cobbles and tarmac where I turned a double right to climb the "Gorge du Loup". A long and steady climb and I was passed by another biker. Into downtown Heze we rode, and then further on past La Royenne into Basse Biez. Basse means low so that meant climbing again, this time following a very narrow track that got really steep at the end before emerging into Biez. Here I was joined by the bikers from the 55K loop. Nice downhill behind the Biez church along a singletrack and a field got us into Grez where we crossed the "Chaussee de Jodoigne" to arrive in the fields between Doiceau and Gottechain. A rather technical bit in a hollow road got the better of a biker in front of me. He just couldn't keep his wheels from slipping in every direction and ultimately he fell down. I quickly moved past him, letting the Rocket Ron in the back find the grip whilst steering my Mountain King towards the grassier bits where traction was just marginally better. Experience makes for a better biker here.
A little bit further I joined the bikers from the 45K. I was moved to see that they had to plow through a very muddy field track coming from Gottechain. Very epic stuff. They were covered in brown muck. It had started to rain a while back. Some light drizzle .
Lots of bikers here and I decided to steer away from the pack and the track . My job was done, I had checked the faraway loop for lost arrows and now I was kinda free to ride where I wanted. I decided to cut through Bossut and La Malaise and pick the trail back up past Nethen. From upper Pecrot down to Nethen I had a nice hollow track all to myself. At the La Hetraie camping I was back on the TT trail. Not too crowded here so I could climb up towards the Kluis area undisturbed. At the second rest stop in Sint Joris Weert it was very crowded and the Red Bull Girls were doing their best to be friendly to all those muddy bikers. They certainly were among the more beautiful things many of those bikers saw today. There even was a ray of sunshine peeping through the clouds .
I decided to keep on following the trail towards the Zoete Waters and past Vaalbeek to where it crossed the Naamse Steenweg just on the Blanden border. There I turned left and arrived home where my first job was to wash my very dirty bike. Here are some pics to see how it was before and after its well-deserved rinsing.

Ride Stats : 60K and 690/785 heightmeters (Polar/Garmin) in 3h35mins

7970/85060
31-10-2010, 14:00 geschreven door Big Bad Wolf