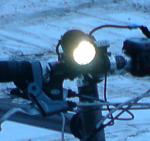 A dry day today, but it was misty, cold and damp when I rode out into the dusk. There was still snow in the fields and the main roads were glistening with salt and very dirty. I set out for a long slow distance ride along Heverlee, Oud-Heverlee and Korbeek Dyle. From there I climbed into the snow-covered fields steaming with wisps of fog.
Over Bertem and Leefdaal my path brought me towards Neerijse and further on into Sint Agatha Rode. Darkness had fallen completely now as I rode towards Pecrot and Nethen to finish off my loop riding into Hamme Mille and back through Meerdael forest.
The average temperature was a frisky zero degrees C and the damp conditions made it feel colder than normal. Good thing I went out though because the rest of the week should see the return of rain before the temperatures should drop below zero again towards sunday.
Ride Stats

: 40K and 335/347 heightmeters (Polar/Garmin) in 1h55mins
597/5035
04-02-2009, 19:30 geschreven door Big Bad Wolf