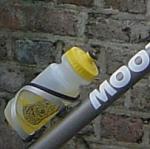 With the approach of autumn the Meerdaal 2000 organised ride is coming closer. Another organisation I like to help out. Today with the KBC MTB club we were guided by one of their ranks around the base loop. Some 25K in length. Near the end of the ride I was asked to include some twisting singletrack until it got too dark in the forest to safely bike. I think I supplied some nice trails.
Yesterday I had a meeting with my club, the
Velo Club Blancs Gilets
, about the fusion which is about to take place with the Royal Velo Club d'Ottignies. Two big clubs - one more focused on mountainbiking, and one who has a 'royal' status and has a lot of road racers in their ranks. Budgets will be higher and also facilities will be enlarged. More can be read
here
.
On another note, the Belgian and Dutch MTB Marathon Championships will be organised by our club on September the 28th. I received the - unofficial - parcours map so I can go and check it out and make a GPS profile. The map will appear on the Clubs' website shortly . It can change but as it stands the race spans between 92 and 93K. More info when I will have had a chance to actually ride it. All info about the upcoming race can be found
HERE
.
Ride Stats

: 40K and 360/415 heightmeters (Polar/Garmin) in 2h10mins
7252/71395
28-08-2008, 00:00 geschreven door Big Bad Wolf