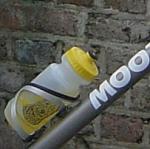 I was planning to go to Theux today, but due to the forecast low temperature, we decided not to go. Instead I opted for another of my regular rides, the Accro Bike. This is a track that once was a race starting in Grez Doiceau and spanning 43K for the short version (the actual race track) and 52K for the longer version. The track in this shape has been out of use for quite a while now. The organising Vélo Club Blancs Gilets - my club actually - chose 5 or 6 years ago for a version that would only run on the community of Grez-Doiceau instead of crossing over to nearby Chaumont Gistoux. I have known this trail for quite some time and I continue enjoying to ride it. Accro comes from "accrocher" , a French word that can be translated as 'persevere'. And you need a lot of perseverance on this trail. The 43K has some 700 heightmeters in it, and is a continuation of uphills and downhills, mostly steep and short with only a few areas where you can catch your breath. So in order to do well on this track you need to spread out your efforts , taking it easy in the beginning. Remember, it is a track that was designed for XC racing - one loop of 43K. The best guys could do it in well under 2 hours, depending on the state of the trail.
This morning it was minus 5 degrees C, but the sun was out very quickly and the wind - which was an unpleasant foe yesterday - was completely gone today. When I rode out around 11.30am it was 5 degrees C but it felt a lot warmer than yesterday. I took the Moots out for the first time this year. I need to have the Fox F80 front suspension overhauled. It works a bit shoppy and generally feels too hard for my liking, even though it does use the full 80mm of travel. Other than that the Moots works as it should - smoothly.
The trails were treacherous at places were the sun was melting the top layer, causing it to become quite slippery. My front wheel slipped sideways at one stage and only a cat-like reaction saved me from kissing the floor. From that moment on I was warned and took it easy on the sunny bits of the trail. In the shadows there was still ice on the scarce puddles and the trail was hard , sometimes with deep gullies. But I have been here before and I know about the traps of these trails. So I took it easy concentrating on the beauty of the vistas and generally enjoying myself. There was an organised walk on some of the trails, and I was glad I had the Moots because the Chris King real wheels' idle sound is better than a bell. It's bee-like sound alerted the walkers to my presence and I only had to grumble a few times at the loose dogs who took an interest in me whilst I was passing their owners. "Les chiens en laisse, merci"
I also crossed quite a few mountain bikers - it was a pleasant day to be out and about. After completing the Accro Bike, and on my way back home I took a break at the house in Bossut where my dads' cradle once stood.
Nowadays it is nicely renovated but way back then it was a farmhouse. I always get a special feeling when I pass this place. At the end of the ride I was pleasantly surprised by the amount of heightmeters - nearly a 1000 . My legs felt it too, feeling empty and tired by the time I got home - a very good ride indeed.
Ride Stats
: 69K and 950 heightmeters in 3h59mins
1007/8870
17-02-2008, 00:00 geschreven door Big Bad Wolf