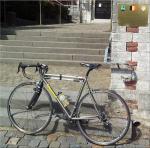 This morning saw the passing of a rain front so it didn't look very good for a ride. But around noon things cleared out so I grabbed my bike and rode out . Originally I was thinking about doing a quick 40-50K ride but when I felt the sun on my skin and the skies cleared out completely I decided to ride a bit further. There was a nasty wind blowing from the west but when I arrived on the Ravel 2 from Hoegaarden to Namur, I was sheltered by the shrubberies around it. Passing Jodoigne and then forking off towards Perwez where I got the wind in my face. But with the sun out I did not mind that much. I wanted to pay a visit to Maleves-Sainte-Marie-Wastinnes and check out the little Saint-Ulric church where cycling icon Frank Vandenbroucke got married to Italian beauty Sarah Pinacci in oktober 2000.
Taking the Chaussee de Huy past Thorembais-Saint-Trond I quickly took a right to arrive in Maleves, the first of the 3 villages forming the one 'with the long name'. I stopped near an old World War 2 personel carrier.
Beautifully restored and acting as an attraction for the nearby Musee du Souvenir . A World War 2 commemorative affair. The owner saw me standing next to the tank and presented me with a little leaflet about the museum.
Moving on I came to the church. Unfortunately it was hidding in scaffoldings but I still took a picture before riding on. It is hard to imagine Frank arriving here on that day in october with a yellow Ferrari. I think they are still talking about it in the village.
From Maleves I rode on towards Opprebais where I stopped to have a look at the big water reservoir where I learned scuba diving a while back. From Opprebais I took the N91 until Pietrebais where I veered to the right . I noticed a black cloud forming in the northwest and while I was riding past La Bruyere, Beauvechain and Opvelp I began to understand I would not be able to escape the rain. And indeed with only 5 kilometers to go, in Bierbeek, the first drops fell and for the next 10 minutes I was riding in mild rain. Still, I considered myself lucky to have been able to ride almost 3 hours without a single drop and in nice sunny weather.

Endomondo track


Ride Stats : 82.5K and 470/470 heightmeters (Polar/Garmin) in 3h10mins

9195/77315
05-09-2011, 16:34 geschreven door Big Bad Wolf