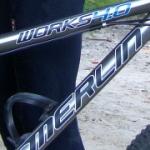 The rear tyre of the Moots needed new NoTubes liquid so when I collected the wheels from my Merlin, which were refilled as well, chez Filip Sport, I dropped the Moots wheel.
Checking out the Merlin, yes why not on the O2 Bikers extended loop I call Julie 5 . I decided to ride it in the clockwise direction today, which obviously adds a couple of new challenges. Making my way to Grez over Bossut I decided to make the Julie 6 start on the little square there. The weather was OK, not too warm, neither too cold, although I needed armlings for the first hour, especially when riding through the Meerdael Forest which still was rather frisky.
Once on the loop and riding the Merlin over the continuous succession of hills and descents I quickly warmed up though. I felt good and the bike was helping me to ride fast over the dry trails. The speed in the descents was sometimes scary, this is the bike I feel I reach my limits on , long before reaching the bikes' limits. In short, this bike is a lot faster than its rider .
Climbing out of Heze towards the Bois de Glabais I met a large group of Blancs Gilets. The monitors recognized me and we had a little chat. They were doing a local loop with the kids of the club. I felt a bit awkward because I wasn't wearing my clubs' jersey. But when I ride the Merlin, I wear the Merlin colors. Into the Gorge du Loup and I got started on a very intense part of the loop. Heightmeters galore and descents to catch my breath and let my heartrate drop .
Next came the section between Longueville and Gistoux. I explored a new loop, avoiding a very steep ascent and adding a couple of extra heightmeters instead, dropping down deeper into Gistoux. My legs were still feeling good so I could keep the pace up whilst I rode towards Bercuit and Dion-Valmont. The last climb towards the Rue du Centry was blocked last month, so I avoided that by taking another climb next to the N25 and turning right towards Doiceau in the end. From Grez I set back towards Bossut, completing the 65K loop in 3h55mins. Not bad at all, especially since my average heartrate was only 130bpm throughout the entire ride.
On the way back I took a little pause on the bridge over the Naamsesteenweg, before heading home . Getting used to the Merlin was easy. Upon checking I found that my average speed over this ride was 2.4kph higher than with the Litespeed Obed. The Merlin is such a great bike, it weighs approximately the same as the Obed hardtail but offers 4 inches of suspension in the rear, and this makes a lot of difference, especially on the dry hard trails.

The trail, you can get it at Garmin Connect. I would appreciate some feedback if you do download and ride it. I believe it is a great track, whichs gets a lot out of the area. That being said, do not forget you are in for a 1000 heightmeters over the 65K distance, so be prepared to leave some sweat on these trails.


Ride Stats : 85K and 1195/1280 heightmeters (Polar/Garmin) in 4h36mins

1521/17040


16-04-2011, 16:42 geschreven door Big Bad Wolf