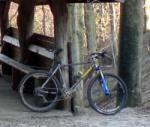 Full moon last night and the open skies made it very enjoyable to look at her. This morning temps were in the -2 degrees area so why not try and do a ride in the forest? Indeed, all the mud had nicely frozen solid so it was fun to ride again. The wind was making it very chilly though. I settled for a ride more or less following the Red Bloso route into Meerdael Forest.
Yesterday I changed my v-brake pads, chain and jockey wheels . At last I could brake again and the entire gear changing mechanism also benefitted from the new chain and jockeys. All I need to replace now is the derailleur cables and obviously the SID SL fork.
I deviated from the Red route to take some pics at the Warande ponds and in Bierbeek I checked out a hollow road parallel to the one leading past the starting point. Its a nice alternative track if you want to avoid the tarmac and the cobbles. Near the end of my ride the temps were around 0 degrees and the forest floor began to become more muddy again. But still my bike was as good as clean when I arrived home.
Ride Stats

: 26.5K and 275/292 heightmeters (Polar/Garmin) in 1h34mins
9812/92715
13-12-2008, 14:45 geschreven door Big Bad Wolf