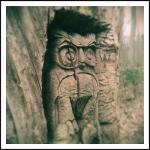 Life as a cyclist is harsh these days. We are experiencing normal April weather with showers, wind and general not-too-high temperatures. When I woke up the sun was shining but a couple of minutes later some beautiful cloud formation was releasing some rain, hurried on by a strong western wind.
I decided the forest would be the only sensible option and I left with my Hilset equipped with fenders and myself dressed in a goretex rain jacket. Just to be on the safe side.
The forest trails were moist bit not muddy so the Mollendaal trails suited me fine. I did one of my winter loops, crisscrossing Mollendaal forest . Only in the valleys there were a couple of short muddy sections where the forestry machinery had passed and left deep tracks. But the Hilset flew through them without much effort. I was lucky enough to remain dry for most of my ride, only during the last couple of kilometers there were some drops falling.
The temperatures were around 9 degrees C on average which felt cold with the wind reaching through the forest cover. I did manage to get in a good ride with an average heartrate of only 120bpm which was all I needed for a good recovery ride.

Endomondo track


Ride Stats : 28K and 340 heightmeters (Garmin) in 1h33mins

2839/29040
21-04-2012, 13:35 geschreven door Big Bad Wolf