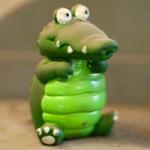 Today some rain was forecast so I was unsure wether to ride out. At 10.30 though I noticed the sun was out and the radar did not show any cloud cover dense enough to contain rain. So I took the YBB out for a tough ride. I planned to do the hilly section of the annual Meerdael Classic ride. This starts in Oud--Heverlee and passes near my home. It was here that I picked up on the trail that would lead me through Meerdael Forest to reach Nethen and later on Pecrot where the serious - hilly - business would commence. I took a bit of a risk to ride out with a rear wheel that suffered a bad bump during my latest ride with this bike. Later on that would prove to be exactly right.
The ride progressed well through a sunny and green Meerdael Forest and I was enjoying the silence with only the wind and the angry bee sound of my Chris King hub breaking the calm. When I reached the Klabbeek area things started to happen. On the uphill following the steep downhill at the Tomme, some 17K into the ride, my chain got stuck in a chainsuck whilst dropping to the small ring. I could get it free whilst backpedalling but I noticed a clanging sound from then on. At the top of the hill I stopped and noticed that the chain was twisted, one of the links was stiff and collided with my jockey wheels. Later on it got worse and caused the chain wanting to shift on the bigger ring all by itself. I decided to stop and break the chain, throw away the bad link and replace it with a SRAM locking link.
That went well and I set on for the rest of the ride. One hill after the other was absorbed by my legs and the sun was now hiding behind some darkening clouds. But it stayed dry and whilst I was pausing for a Clif Bar I noticed to my horror that one of the spokes in my rear wheel was loose. It had broken the nipple out of the rim. This was potentially a great risk so I decided to cut the ride short. One loose spoke puts more tension on the spokes next to it, and if they fail as well, the wheel collapses. Good thing I noticed this. I reckon the damage had been done during my latest ride, when I hit the big bump that caused my wheel to go out of true. Probably I hit another big one during this ride - it happens all the time, this is mountainbiking after all - which caused the already straining nipple to give out.
Riding home though Meerdael Forest I did not encounter any more problems and was a bit sad having to cut short this ride. But I still put in a good workout which yielded me 10K and about 150 heightmeters less than I had bargained for.

Endomondo track


Ride Stats : 50K and 890 heightmeters (Garmin) in 3h04mins

3607/37420
18-05-2012, 15:15 geschreven door Big Bad Wolf