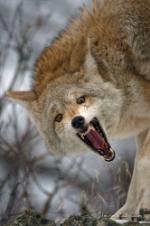 I was not sure if I should go today or wait another day but when I saw the sun out I decided to ride to Theux anyway and do the longest uphill followed by the longest downhill. My cat looked a bit sad as if he wanted me to stay home. I would think about him a few hours later.. please read on.
When I arrived at the chateau de Franchimont overlooking Theux the sun was hiding behind clouds and with 15 degrees C it wasnt exactly very warm. I know from experience that the temperatures up on the Fagnes would be 4-5 degrees less so I dressed warm. The first couple of kilometers went very well - only the usual trouble with my Polar when passing alongside the railroad track in downtown Theux. I started off by following the Blue route down from the chateau along a very nice downhill. Afterwards at the foot of the majestic Bois de Staneu I changed over to one of the Spa marked routes following the little Clémentine river up towards the Crois Brognard. After crossing the busy road I dropped down the slope to arrive at the start of a very nice and sometimes very steep singletrack leading me up towards Tiege. There I followed a bit of tarmac until I crossed the E42 and another nice track brought me towards the N640. Here I dropped down a steep trail towards the Petit Normand area where you can cross the river Hoegne, either riding though it or riding over a small wooden bridge. Unfortunately I decided to take the bridge. As I was lifting my front wheel to engage the steps leading up towards the bridge I felt something twitch in my lower back. A little muscle spasm. Damn. I could continue riding but I know from past experiences that these little spasms lead to a couple of days of stiffness and generally a lot of pain.
I decided to continue since the trail leading upwards from the Petit Normand is not too difficult and I was on a full suspension bike anyway. I also decided that it would be impossible to ride down from Signal de Botrange afterwards using my usual route - following the river Hoegne offroad towards Polleur. This route is quite challenging and demands a lot from bike and biker.
I could feel some pain in my lower back but as long as I was on reasonably large gravel roads I would be fine. The long climb on tarmac and gravel towards the Vecquee went easy enough but the rocky descent down towards the river Hoegne bridge near Hockay already made me realize I should avoid bumpy roads as much as possible.
Another steepish climb brought me to another bridge over the river Hoegne where I paused for a photograph. When I got off my bike I could feel the pain getting worse. So I made the picture very fast and continued on my way up towards 700 metres, now over large gravel roads. At the Signal I went to the point of view overlooking Germany and had something to eat. There was a cold wind blowing from the Northeast so I didn't stay longer than necessary. I took out my maps to have a look at my downhill options. From earlier rides I remembered that I could take a fairly easy road from le Petit Normand towards Theux if I followed the N640 towards Sart and Tiege. Then after Tiege I could cross under the E42 , take left and cross over the E42 again to arrive into the Bois de Staneu. There is a narrow tarmac road riding over the crest of the Bois de Staneu hill all the way to Theux. This would all more or less be downhill. The only real climb I would have to do is the one towards the Chateau de Franchimont again, but here I could also choose the tarmac option.
And so it was done. I was glad I made it, with the lower back you never know how bad it can get. I felt sad for not being able to complete this ride like it should be - I have been doing this ride for many years now, refining an old O2 Bikers description of it and adding a lot of offroad to the uphill sections - but thnigs being what they were I believe I made the right choice .
The next few days, perhaps even weeks, will see me doing a lot of tension exercises and warmth treatment of my lower back muscles , some easy riding on the rollers and resting to give my back the time to get back in shape.
Ride Stats

: 63.5K and 985/975 (Polar/Garmin) in 3h30mins
GPS Track Analysis

on Motionbased : CLICK
8115/82035
16-09-2008, 22:35 geschreven door Big Bad Wolf