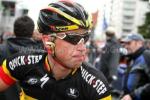 I had to take a few days of rest because I suffered an allergic reaction to 'something' I ingested last weekend. That was a blessing for my overall fitness level since it allowed my legs - and the rest of my body - to recover completely. After a few days on Cetrizine I felt sleepy but nevertheless I was wide awake when I set out for a ride which would take me on the same roads as last wednesday, but in the reverse direction. I felt immediately that my legs felt strong and so during the ride I made very good progress. I did an extra little loop and somehow managed to stay ahead of some menacing clouds. The temperature was around 8 degrees C but the wind was quite cold from northwesterly directions.
A few hours before I witnessed
Stijn Devolder
win Flanders biggest road race, the Tour the Flandres, in a majestic way. I also saw a very good Tom Boonen, which looks promising for next weekends' Paris-Roubaix, a race that even appeals more to me. This is probably due to the fact that I competed twice in the Paris - Roubaix VTT, an offroad version taking place just before the main event.
Ride Stats

: 37K and 320 heightmeters in 1h31mins
2142/16675
06-04-2008, 19:05 geschreven door Big Bad Wolf