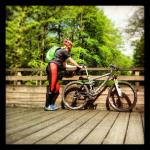 This morning I went to the Novotel in Leuven to wave out the KBC b.strong delegation which was undertaking a 7-day cycling trip to the Vosges and back. Normally I would have done this as well but the continuing problems with my lower back made me decide to throw the towel on this adventure. It hurt seeing them ride off into the sunshine.
When I got home I decided to go on a ride myself. Taking the Merlin Works 4.0 out I had a plan to ride a big chunk of the 42K Accro Bike. Making my way though Meerdael Forest and Bossut towards Grez Doiceau I started out on those familiar and well-loved trails. The first big climb into Biez was no longer rewarded by a splendid view over the valley of the Train towards the west. Some developers have been building house near the to of the slope, spoiling the view for years to come.
I rode on and dropped down towards the Rue de Royenne in Morsain. My legs were still feeling fresh even though I did do some Core Stab/Pilates workout yesterday evening. The succession of climbs and descents, which make the Accro Bike such a tough ride began to work its way through my reserves. I cut off a technically difficult and wet part in the Bois de Glabais, instead riding directly into the Bois de Bonlez and the Michelsberg site.
Into Bonlez and here I cut off another section, too wet and too tricky for my liking instead opting for an easier route into Dion Le Val. The long climb and descent into Wavre made me do an extra section to avoid a supersteep climb. Undercrossing the N25 I made my way into Dion Le Val again, and after that only two big climbs were left. My back began to manifest itself and I was glad to be back into Grez Doiceau again. Riding back over Bossut and then into Les Claines and following the N25 from Hamme Mille into Blanden where I was happy to see my home.
A super ride and the first time I went over 3 hours this year. Also nearly 900 heightmeters, and not the easy kind.

Endomondo track


Ride Stats : 58.5K and 860 heightmeters (Garmin) in 03h07mins

2610/6330
17-05-2014, 15:26 geschreven door Big Bad Wolf