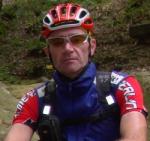 Yesterday it was raining lightly most of the afternoon and when I rode aout today I was surprised the forest and other terrain was dry again. I decided to go offroad and do some more K's on the Moots.
I received some bad news from ABC Fietsen about the Tune bearings. Seems the Tune importer for the Benelux - Peza trading I believe - decided to pack it in , leaving ABC without a source for Tune goodies and putting the responsability to get the bearings with me. I contacted Tune about direct delivery to me, but they are slow reading their emails it seems. ABC Fietsen is OK with installing the bearings once I have received them.

I rode through Meerdael Forest and St Agatha Rode towards the Overijse BLOSO routes and with a menacing sky above did all 3 of them, adding some extra climbs in the process. My Moots YBB has been making creaking noises for the last couple of rides and I was trying to figure out where the noise came from. It only happened when I pedalled and being seated or standing up didn't make a difference. Weird.
So it either came from the XTR bottom bracket or perhaps from the small YBB suspension unit which has 5 years in it and is in need of a rehaul. The aluminium slider is getting worn by the continuous movement. I already have a replacement part but am not very keen to do the overhaul myself. Perhaps I will ask Filip Sport to do it for me when I turn the bike in for its yearly checkup.
Anyway I blocked the rear suspension and the creaking seemed to lessen, but did not disappear completely. Having the Moots turned into a front-suspension-only bike didn't add to the comfort and I quickly loosened the rear suspension after a couple of kilometers. The clicking sounds seemed to increase until all of a sudden they disappeared completely for the rest of the ride. Funny things, titanium bikes, aren't they?
I felt very good today and had a strong average and good feeling in the many climbs. Near the end of the ride, making my way back into Meerdael Forest for some last climbing, the skies got dark but still no drops fell.

Ride Stats : 55K and 805/870 heightmeters (Polar/Garmin) in 2h53mins

6693/65895

02-09-2009, 20:20 geschreven door Big Bad Wolf