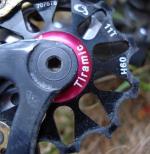 Long time no ride. First obviously the time needed to recover from my kidney stone and the removal of it, and then 2 weeks later the removal of the stent they inserted between my kidney and bladder to keep the kidney from being blocked again. And then I had to go to the kine to have a look at my shoulder which appeared to be blocked. I suffered a trauma when I slipped whilst cleaning snow and had to grab my shovel to keep me from falling. This happened the day before Christmas. Since then obviously I felt some pain and have been altering my posture to keep the pain to a minimum. This put some strain on other tendons and muscles and there you go..
After 3 treatments the shoulder feels better now and I am nearly back to full movement. But it is a process that will take some more time.
But in the meantime, I'm back on my bike again. My legs felt great after a month and a half of non-activity . Of course some of the strenght is gone but the fitness is still there and riding on the road there is no problem. I have to take it easy though, riding for short periods and gradually building up the pace and/or distance.
It was difficult to choose the right clothing because I have been "out of synch" with the weather for a while and I had to guesstimate the number of layers I would need. As it turned out I was just fine with 3 layers of shirts and a wind cover. My ride took me towards Heverlee, where I noticed the massive amount of bikers at the arrival of the Zoenk ride.
Adding a bit of spice to the ride I climbed up to the Park Abbey and then turned towards Heverlee and Oud-Heverlee to finish my ride along the Zoete Waters and Vaalbeek. My average heartrate needs to come down a bit but I'm sure this will happen during the next couple of rides.

Ride Stats : 23K and 165/195 heightmeters (Polar/Garmin) in 1h4mins

58/485
13-02-2011, 13:00 geschreven door Big Bad Wolf