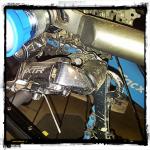 After the Ronde of Leuven I stopped cycling for a couple of weeks. My lower back, more exactly my right hip, had been giving me some trouble and I wanted to take a rest to give it time to heal . Went to Pierrot Devroede who manipulated my spine and neck but after a couple of days the pain in the hip remained and I went to the doctor. She proscribed me Brufen - 3 times 600 a day - which I took for the next 7 days. The pain subsided by was still nagging so I went to
Frigyes Vanden Auwele
last wednesday. He took a look at me and placed my pelvis in a correct position. The pain immediately seized . The next couple of days I did feel the resulting pain from the hip manipulation though.
Frigyes told me I could start to cycle again today.
So that is what I did. I got on the Hilset and went for 30 minutes at an easy pace. No pain, so I was happy with that.
Ride Stats : 18K in 00h31mins
10235/55050
07-09-2013, 00:00 geschreven door Big Bad Wolf