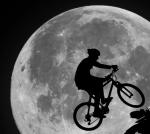 'I have a cunning plan', as BlackAdders slimy domestique Baldrick would say. I wanted to do a climbing training and I wanted to do it in Meerdael Forest. Its southern edge has a 40m drop where heightmeters can be scored. I wanted to go for a 1000 heightmeters. That would more or less mean 23 climbs of that drop. So I set out around 4 pm and started to make figure 8 loops starting from the Kluis, going up to the Hercules salon, down to the forest edge in Nethen and back up along the trail the Blue Meerdael Bloso takes downhill. Then back down to the Kluis and start again. After 5 of these 2-climb loops I had nearly 400 heightmeters and darkness had well and truly fallen. I judged the downhills to be particularly dangerous, due to leaves, wetness and tree roots, and decided to move towards the Tienne Vincent in Nethen.
This is another nice hill, on tarmac this time so a lot safer to ride at night. The Tienne is pretty steep, around 19 percent at one point so I started to make a figure 8 again, dropping down through the Rue Tienne Binard, with a little step at the top, arriving at the Bruyere du Wez and turning left for another steep climb towards the Chemin de La Trace. When I reached 500 heightmeters I began to think about stopping. But I rode on, riding climb after climb, checking the accumulated height meters on my Polar as they slowly approached the figure 1000.
Upon reaching 960 heightmeters I decided to call it a day. I had been riding for more than 3 hours since I left home and my legs , neck and shoulders began to feel the strain from the climbing and descending. I wore the Lupine Tesla on my helmet, which means my neck has to bear the weight of an extra 150 grams, and I have to look more upwards to guide the beam in front of me. This puts extra strain on the neck and the shoulders during steep downhills. The moon came out when I was riding the last climb and it looked like it was smiling down on me. I was smiling myself because despite the temptation to stop I had put mind over muscle and didn't quit. The height profile tells the tale of this ride. You can make out the 2 parts of the session. The first 11 climbs are of the forest climbs, then a little flat section to ride towards the Tienne Vincent where I added another 15 climbs to reach a total of 26 uphills. In the end I netted an accumulated number of heightmeters of nearly 1000. The ride back home added some more. The temperature had dropped to 3 degrees when I arrived home and some fog was settling in the open spaces of the forest as I sped home after a very heavy training session.

Ride Stats : 44.5K and 980/1075 heightmeters (Polar/Garmin) in 3h14mins

8482/90640
23-11-2010, 21:06 geschreven door Big Bad Wolf