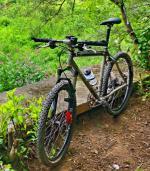 It was very warm today and since I did not feel fully recovered in the morning that meant waiting until early evening before riding out. I decided on a ride with the Moots YBB and set forth towards Bierbeek, Beauvechain and L'Ecluse. Riding throug the fields with a lot of cobble sections and dry dusty trails.
I passed next to Wahenge farm where I stopped for a couple of pictures before venturing into the forest that lays behind it.
Dropping into L'Ecluse my next goal was Meldertbos where I wanted to have another ride into the forest surrounding the Sint-Janscollege. I had marked the coordinates of the mysterious yellow plane that is visible in Google Earth, on my GPS. At the spot I was searching for a path, but I failed to find anything - least of all any airplanes, yellow or otherwise - for that matter. When I checked my GPS track at home I must have passed within a 100 metre radius of the plane. But the forest is a real wilderness there and it will be hard to find it. On my way back I passed along another very beautiful sequoia tree, which I could not resist taking a picture of.
Back into the fields for the ride back towards Meerdael Forest where I passed the last couple of kilometres of my ride.

Endomondo track


Ride Stats : 42K and 300 heightmeters (Garmin) in 02h02mins

3586/11780
17-07-2014, 22:11 geschreven door Big Bad Wolf