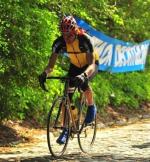 Sun was out from the start today which meant that the temperatures would surely rise above 25 degrees C. Starting around 10am I decided to follow the Vlaanderen Fietsroute for around 50 or 2 hours and see how far I could get. It had been a while I had followed it for that long so I was curious to discover the landscapes and villages I had not seen for some time. Starting out over Bierbeek and Willebringen, then Oorbeek and further to Hoegaarden. Passing the Marollenkapel in Houthem I could not resist taking another photograph, this time from its backside.
From Hoegaarden the Lf6 rides towards Goetsenhoven, Laar and Neerwinden and then pushes through until it reaches Velm, near Sint Truiden. The Lf6 track has been altered here because I don't remember it passing near the church of Velm. This could mean that the signage has been reviewed because I usually got lost just before Velm in the past. Having a snack I decided this was as far as I would ride today and since I had exactly 50K on my counters this was to be my turning point. The weather was great with a temperature of 26 degrees C and a little breeze from the north-northeast.
Riding back along the same way I did however change my trajectory after Willebringen to ride through Neervelp and pass next to the water tower of Bierbeek. This water tower has been in the news recently because there was a pigeon that managed to get into the water, thereby polluting it. Now all the inhabitants of Bierbeek, Neervelp, Haasrode and Blanden have been receiving notice that the water is not suited for drinking purposes. The piping is being cleaned which means that the water is heavily chlorinated. They have been receiving drinking water bags from the Civil Services.
Arriving home with just over 100K and a very satisfied feeling in the legs, a good solid ride with an average heartrate of only 109bpm and an average speed of almost 26kph. I have received a photograph from last saturdays' Decathlon Classic in Leuven. Its a very sharp rendering of myself tackling the last meters of the Pellenberg climb on cobblestones.

Ride Stats : 101K and 620/660 heightmeters (Polar/Garmin) in 03h55mins

5521/53420
05-07-2011, 00:00 geschreven door Big Bad Wolf