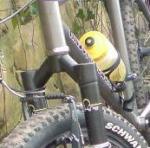 Wow, it's july and yesterday it didn't stop raining. Some geezer in the newspaper said that this is quite normal for july. yeah, let's put HIM on a bike for a couple of hours and we'll see how normal he will think it is after that.
Damn, I should be doing 3-4 hour rides in the Ardennes now, not peering to the sky for a ray of sunshine to make a quick dash on the road.
Oh well, this morning it looked quite good, so I set out for a small loop, accompanied by some scattered drops of rain and a menacing sky. As I reached Bertem I added another loop over Leefdaal and Neerijse, and upon reaching Sint Agatha Rode I felt confident enough to add another loop over Hamme Mille, Beauvechain, Opvelp and Bierbeek. So I got a nice little ride in at a good pace. Saw a nice little baby donkey in Bertem and of course I couldn't resist taking a few pictures. Hope you enjoy them.

The wind seemed to be blowing out of 3 directions today, and it was quite fierce as well. This meant that only one fourth of the ride gave me the impression to have it blowing in my back. But what a nice feeling that was.
Ride Stats

: 60K and 395 heightmeters in 2h27mins
5383/50735
10-07-2008, 15:19 geschreven door Big Bad Wolf