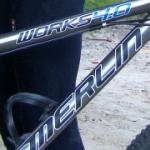 Time to get myself in gear, get in the car and ride towards Nandrin. A long standing favorite of mine where I always enjoy going to. A couple of years ago I found some markings belong to other Adeps tracks and upon investigation I found them to be from the Tavier/Anthisnes routes. I tried following one of them but the arrowing wasn't allowing me to do so for very long. So I took a picture of the route map in Tavier and vowed to be back and check some of them out. So yesterday I traced 2 of the loops using Mapsource and put the tracks on my Edge 705.
Today was that day. I started as usual on the Nandrin village place and took the White loop towards the Bois des Gottes.
There I stumbled on the 17K Green route of Tavier. Taking that towards the starting point I decided to do the 11K Green Walking route first.
This walking route is marked with a green spade on a white field. It is quite a nice route as it loops towards Limont passing through some nice wooded sections, and then follows the Chemin del Haye des Sarts into what turns out to be a splendid passage through the Bois du Sart. Crossing the N638 and then disappearing into the forest again before dropping me back into Tavier. Great trail.
The 17K Green Biking trail is next. Its starts off with a boring tarmac section which brings me into Hody. After Hody the trail goes offroad and starts getting more interesting. It roughly goes anticlockwise through Villers-aux-Tours and then runs in the opposite direction of the 11K walking route I just took.
Great section now, a downhill towards Petit-Berleu where I cross a little river which marks the deepest point of this route. From here it goes upwards again, unfortunately over tarmac but eventually the tracks goes offroad again for a nice singletrack downhill . Before long I am back on the Nandrin White route where I met the 17K Green Tavier trail some 28K ago.
I decide to further follow the Nandrin White until the point where it meets the Red - that is coming straight from Nandrin - and ride back to my car to refill my drinking bottle and apply some suntan lotion.

Starting again, following the climb that is shared between the Nandrin White and Red, and then continiung on the Red itself . I left out this little detour on the Garmin Connect map and gpx track I share at the end of this narrative. But if you study the map you can see where the trail is within 3km from the start. If you want to ride it, that is where you can ride back to Nandrin.
But then you would miss the cherry on the cake because the Nandrin Red trail alone is well worth a visit to this region. I have done it so many times and it never ceases to amaze me with its beautiful landscapes, tricky descents and physical climbs. Especially the long steep one in the Bois de Chaumont is a geargrinder. And today it came after I already had 70K on my counter, so it was particularly difficult. I encountered some fallen trees at several places and had to carry the Merlin over them.
The next two climbs - singletracks in the fields - are starting to make my legs ache but after a refreshing drink from a well in Villers-le-Temple I am ready for the last long climb through the forest towards Scry. Crossing the N636 next and beating the wind on the tarmac climb on the Rue Tilesse I turn left , straight towards Nandrin. Crossing the busy N63 and from now on its mostly downhill with a lovely passage through the Fond de Beche before reaching the starting point.
The wind had been blowing fiercely but I did not mind since it provided some coolness. Temperature was really high today with an average of 26 degrees. Not bad for a weekend in May. It was a long ride, made tough by heat, wind and the terrain but it left me very satisfied with my performance. I started out easy and was able to maintain a good pace throughout the ride. Even after the return to my car, with the difficult red still in front of me, I was mentally strong enough to go for it.


Ride Stats : 84.5K and 1375/1420 heightmeters (Polar/Garmin) in 4h52mins

2792/28585
07-05-2011, 20:33 geschreven door Big Bad Wolf