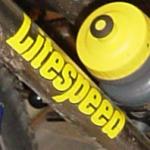 Predicting the weather in Belgium must be a very difficult thing. Before the weekend the forecast looked as if we were going to get rain all through saturday, sunday and even monday. Saturday? Hmm, yes a little moist in the morning and some rain after 5 o'clock in the evening. Sunday? I don't remember it raining, it might have rained a bit during the night.
And then today, rain predicted, but what happens? Great weather - no sun, but dry - with just a few drops. I cannot tell what happened in other parts of Belgium and I'm sure it can be a matter of a few kilometers, but in the Centre it was a GREAT weekend weather-wise.
That also had some consequences on my mileage. I thought I would have a few days off of biking, but it turned out I biked on all 3 days.
Today saw me on part 2 of my Secret Meerdael loop, a succession of hills and singletrail, only leaving the forest on 2 occasions.
Great stuff, if I say so myself. I was out with the Litespeed and I must say , I am really pleased with the 1.8 Nobby Nic tyres I put on a few rides back . Especially in these moist-but-not-wet circumstances with only the occasional mudhole , they perform splendidly. Narrow tyres yes, but with very good grip, also on the offcamber stuff. Their narrowness makes them a bit less comfortable and also the braking distance is a bit longer due to the diminished footprint but I really love them. They give me a lot of confidence on the steep downhill stuff. I made all the downhills and I also made all the uphills, except one where I was so amazed I was going to make it that I lost concentration and got stuck between 2 roots. Aargh... I descended again and rode up once more, this time passing the nasty roots with flying colors. I normally leave my chain on the middle ring but this time I decided to drop it on the small ring a lot, which made it less tough and kept my heartrate low. Had a great time today and when I consider the weekend, I am very pleased with the rides I did. Hopefully it will rain for a couple of days now so I can get a few days' rest before heading off to France for a biking adventure.
Ride Stats

: 42K and 745 heightmeters in 2h58mins
4767/39935
28-05-2007, 16:06 geschreven door Big Bad Wolf