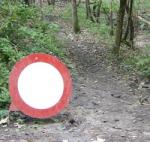 Due to the stir that has gone though some bikers concerning the 'destruction' of a valuable trail on the Hoeilaart BLOSO route, I decided to ride over there and take a look myself. The work had been announced for over a year now, so we were kinda expecting it. The trail runs next to a railroad and they will add another track to that railroad, thus broadening it some 20 metres.
Therefore they need to do some work, which will interrupt the singletrack. This work has now started. The promise has been made to restore the mountainbike track after the work for the railroad has been done.
It is indeed impossible now to follow the last 100 metres of the track, and their is a sign at both sides indicating that entrance to the trail has been shut.
The markers have been changed so the route takes a little shortcut over tarmac instead of descending and ascending again via trail and singletrail.
No big deal in the greater picture of things, and some people who were already announcing the end of all mountainbike trails in the Zonienwoud should reconsider their wordings and return with both feet on the ground.
I made some pictures while I was there and you can compare them to pictures as it was before by clicking on the link behind the picture next to this text.
I returned home with 64K and 390 heightmeters more than when I left.
14-10-2006, 16:01 geschreven door Big Bad Wolf