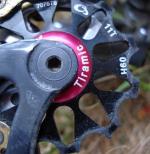 This second Christmas day wasn't really shaping up to be any brighter than Christmas itself. Warm, sure , but a soft drizzle was falling and would keep on falling throughout the entire ride. Not that I am complaining, after all, one can dress for the occasion, but I would prefer winter to really begin now. Colder, dry and if possible with a little snow - not too much - to spice up the riding.
I decided on a road ride with the Hilset, which, with its fat 2.25 Big Jim tyres and XTR cassette was well equipped to get me through an easy long distance ride.
My Gore-Tex Jacket and Pearl Izumi Amfib thights made me soon forget the drizzle. Only problem was with the glasses where a fine mist would manifest itself. No use cleaning it with the back of my glove. But other than that, great circumstances for a long ride in winter.
I made a big loop, starting over Bierbeek, Neervelp and Willebringen with the wind nicely blowing in my back. From Willebringen I rode towards Kumtich and then down into Oorbeek. I was nearing Hoegaarden which would constitute my farthest eastern point today. Turning towards L'Ecluse and La Bruyere next, the wind was now my foe. It was not too violent but nevertheless quite noticeable. When I passed the entrance of the 1st Wing caserne I paused to take a picture of the F16 that has been suspended on display there.
The long climb up to the N240 and then left towards the N91 and Hamme Mille. But not before I rode through Nodebais and all the way to Mille for another little loop. Into Hamme Mille next and crossing the N25 I set towards Nethen and further on to SInt Joris Weert before taking a right and have the wind blow in my favor again. In Nethen I could not resist riding up the Bruyere du Wez and take a quick downhill down the Tienne Vincent. The legs felt good, even with yesterdays' long forest walk in them.

Endomondo track


Ride Stats : 66K and 500/545 heightmeters (Polar/Garmin) in 3h02mins

13136/115765
26-12-2011, 17:31 geschreven door Big Bad Wolf