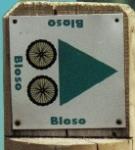 Had a few days rest to absorb last weekends' rides. Today it was rather hot when I rode out but I decided nevertheless to do an offroad ride. I set out into Meerdael forest and made the connection towards the Overijse Bloso routes in Sint Agatha Rode. The Moots was fitted with a new XTR bottom bracket and the play and noises were gone. Cool!
I rode my version of the Two Valley Route, incorporating some shortcuts and an extra climb. Obviously I paused near the horses in Huldenberg to make a few pictures. You can also check out the placement of the Edge 705 on my handlebar on one of the pics.
I had the Edge 705 fitted to my handlebar this time (there are two bikemounts provided in the box - one for the stem which went on the Merlin, and one for the handlebar which is on the Moots) and I was curious if it would stand up to the knocks of the terrain. But it didn't move and all went well. Its great to have the extra information the Edge 705 gives. I have it set up to display the time, the total distance, the direction, the height, the total heightmeters, the elapsed time and the current speed. I notice that it is a bit more generous with the heightmeters than my Polar S710, and when I upload the ride into the Garmin Training center it even adds some more heightmeters. I guess it re-calculates with the topographic map data. Anyway, since the Polar is coming along on all my bikes I will use its data for my calculations and yearly totals.
The track today was fine, but at some places totally washed away. This must have happened last sunday when it rained quite a bit in a short time. The Moots isn't as nimble as the Merlin in those conditions but it took me where I wanted to go anyway. I went back into Meerdael after I completed the Overijse trails for some extra climbing and a few nice singletracks. The sun was already setting but it was still very warm and great for biking.
Ride Stats

: 54.7K and 655/821 heightmeters (Polar/Garmin) in 2h48mins
6491/64555
06-08-2008, 00:00 geschreven door Big Bad Wolf