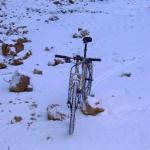 Since Monday afternoon, an inhabitant of Blanden, Gilbert Peels, is missing in Meerdael forest. There has been a big search yesterday, with helicopter and all but there seems to be no trace of him. Also check
http://www.polfed-fedpol.be/ops/ops_vermistdetail_nl.php?RecordID=624 for the latest news.
Today, I felt it only appropriate to do a ride in the forest and try my best to look around for him whilst doing so. I stayed on the east side of the Naamsesteenweg and took all the little singletracks I could. I could see from the multiple traces and imprints from men, dogs and jeeps, that there had indeed been a very thorough search even on the tiniest tracks. I also had a good look around in the sandpit near the naamse Delle. I saw traces there as well but I checked behind some heaps of rubble as well.
All the while I was thinking what I would do if I found him. I think it is realistic to think that - after 2 nights of freezing temperatures - he would be dead if he was lying in the forest. Finding a body is not something one looks forward to. But I didn't find him, I can only hope that others will, or that his family gets a sign of life from him if he is still alive. I stopped my search - and ride - when it got to dark to see any further than a few meters in the snow-covered forest.

Ride Stats : 22K and 255/295 heightmeters (Polar/Garmin) in 1h49mins. -3 degrees C average temp.

180/2090
06-01-2010, 18:27 geschreven door Big Bad Wolf