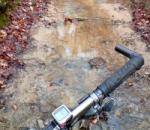 Inspired by the latest roadbook in O2 Bikers I decided to go south and check out some stuff in and around Grez Doiceau. I started out in my usual way, riding towards Hamme Mille and the make my way offroad towards Bossut . From here on I descended into Archennes. I had already seen the markers for tomorrows' Pecrot organised ride and was going to bump into them again further down the path. When I rode out the weather was dry, with partly cloudy skies. There was even a hint of the sun peeping through the clouds. But the tracks were wet and dirty. Good thing I mounted my new ToPeak Defender because I was going to need it today. There were puddles everywhere and the ground was heavy going and mushy. I wanted to check out a particular climb in Longuevill so from Archennes I made my way towards Doiceau. Here I climbed into the Bois des Gottes and passed the Bercuit Golf Circuits. From there I made my way down a very slippery path where my WTB Weirwolfs met their match and I kissed the floor - lightly. When I was overlooking the Rue de Bayarmont it started to rain. I took out my GSM to make a pic and waited until the rain stopped.
Then I descended through the fields and made my way upwards on the Rue de Bayarmont and later down into Bonlez. I wanted to go to the Fishery on the Chemin des Forts des Voiles so I had to do a little searching in my mind and on my GPS to get there. Took a picture of the pink housing and moved onwards into the forest where the road became a river - or the river became a road. I climbed up this road all the way into Longueville where it became the Rue du Try. Made a few pictures that tell a thousand stories I'm sure. From Longueville I made my way towards Heze. Incorporating the nice little singletrack running parallel and between the Allee du Vicinal and the Chemin du Ry de Heze. I now arrived in Biez where I sat down on one of my favorite benches, with a nice view to the Northwest towards Grez Doiceau and beyond. Made it down the slippery cobbles of the Chemin du Curé and then took the insider track towards Grez. From Grez I rode back towards Bossut where I spotted a nice rainbow.
Before long the rainbow was nearing me and yes, another shower came down to add to the wetness. I decided to call it a day and rode back towards the Grand Royal and further towards Les Claines and Meerdael Forest. A nice ride but a tough one as well. Especially the slippery and wet tracks demanded a lot of attention and concentration.
Ride Stats

: 45.5K and 540/548 heightmeters (Polar/Garmin) in 2h43mins
Ride Map

:
9668/92110
06-12-2008, 19:20 geschreven door Big Bad Wolf