Tales from the Woods
05-08-2007

Holy hotness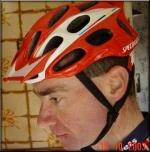 Today really is one of those typical high-summer days. Very hot with clear azure skies and a warm breeze gently blowing from the south. The air smells of the freshly mown wheat crops and is buzzing with butterflies and a million other insects. I decided to bike anyway because I wanted to relax my muscles after yesterdays' tough ride. I did a road ride looping over Lubbeek, Binkom and Boutersem along quiet backroads. I averaged 29 degrees C on my Polar and I must say I was glad to be in around 1pm when the midday heat began to set in.
Ride Stats
: 48K and 295 heightmeters in 2h20mins
6897/63325
05-08-2007, 14:12 geschreven door Big Bad Wolf
04-08-2007

Ride the Red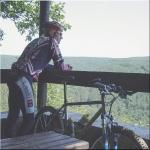 It was 7.46 am when I turned my car onto route 666 leading towards Banneux and its Catholic Pilgrimage . It struck me that 666 was the last number I would expect in an area like this but I guess someone at the Roads' Department must have had a weird sense of humour. Took me some time to find a suitable parking spot not far from the N62 where I could get on the Red Theux route. This route - which I
already did before
- has the reputation of being one of the toughest in Belgium. I wanted to start real early to beat the heat. The sun was already making it's way up and the morning dew was evaporating quickly when her rays touched the wet grass. I started in Banneux because I wanted to have the toughest bit of the Red route in the beginning of my loop. The great singletrack descent towards the Forges Thiry was sadly not completely ride-able. At least at 4 spots some big tree had fallen over the trail, which meant descending from the bike and getting started again afterwards.
At the bottom of the descent I spotted the signage for next Sunday's
UCI Marathon World Championships
, which are held at Verviers. They are descending the Forges through an alternative path I believe.
After crossing the busy N690 I could start on one of the many steep and tricky climbs the Red Theux is famous for. The Championship track follows the Red trail for a while until they enter some private property and I had to take a right turn. After a while of going up and down, mostly through forests but also some little stretches of tarmac and lastly descending into Theux itself I was on the very steep climb which follows the Rue de Chawieumont out of Theux and up to the road leading towards the Franchimont castle. This is where the route I was on officially starts. At one point I had to walk because I was not prepared to push that hard in the beginning of the ride. When the steepest - middle - bit was over I got on my bike again. There was a family - Man, Woman, Child - taking a rest at the top of that climb and they knew exactly what I meant when I passed my hand across my throat. We shared a laugh and I was back on my way.
This is a real killer climb, especially since it is near the end of the route and it wrings the last ounces of power out of your legs. But smart as I am, I had this one near the beginning - relatively speaking since I was some 20K into my ride.
When riding towards Sassor I spotted a few bikers before me who were also doing the Red. They just left and were relatively fresh. I missed a turn near Au Fays - I always seem to miss this one - so when I got to the E42 I was in front of them. I stopped for a little snack and they passed me going down into the Thier de Polleur, a very nasty descent. In the next uphill, leading into the lower regions of the Bois de Staneu I passed them. They seemed to be already tired or were maintaining a slow pace. They confirmed me they were doing the Red route and I wondered if they would make it judging by the speed they were going it would take them a while to say the least. But then, each has his or her own pace. Mine was faster than theirs so I continued dropping out of the Staneu Forest onto the road from Polleur to Theux.
After a while I disappeared into the forest again for a steep climb towards the route du Pré des Lis. Down towards the railway track and then a little tarmac passage leading over the busy Spa road and to another rocky ascent parallel to the route de Becco . This was the first ascent which had me shift onto the small ring in front. It would not be the last. The trail then climbs more or less all the way through Hestromont, with a lovely little track leading into a green valley. But beware - the track is rock-strewn and partly overgrown with grass so it is quite dangerous if you misjudge your speed here !

Up towards the "Maquisard Inconnu" monument it now goes, via a large gravel road which leads through le Gros Thier , a nice forest. The height is creeping towards the 350 metres mark as I stop for a little break near the monument. When I leave I notice a strange sound coming from my front wheel and lo and behold, a big thorn has found its way into my tyre. Another break coming up !
I took my time fixing the tyre - must let that adhesive vulcanize - and after a while I could continue towards Banoyard , the 400 metre mark ánd the top of the Ninglinspo valley, a valley which I refer to as Dreamland . I remembered exactly which track to take from
the last time I was here
. Some 100 metres down I enjoyed the view from the Point de Vue Drouet, this time in full summer and the greens were even more lush. Deep down in the valley I could hear children laugh and yell. Which reminded me that I had to take care, there would be a lot of hikers and families on this saturday, enjoying the marvelous surroundings of the little Chaudiere and Ninglinspo rivers.
I took another little snack at the Point de Vue and got back on my bike for the descent which would drop me some 250 metres towards Sedoz. There - after shortly following the busy N633- I turn to the right and follow the track nr 38 all the way back up again. This is really a climb which any mountainbiker should do. Alternatively over rocks, crossing the little river and just plain steep it winds its way up for about 3-4K and 250 heightmeters. As I expected , I passed a lot of hikers, some of which were cheering me on as I passed them. On top I joined the Red route again which was now staying on the plateau for a while - I did NOT complain and enjoyed putting the big ring on for a change - and then dropped into Jehoster for a technical downhill over rocks and loose stuff which was relatively dry. The rest of the route was muddy at places but a few really deep puddles notwithstanding all was easily ride-able. A long steep climb towards Ménobu and I began to feel the exhaustion by now. I spotted a biker in front of me but then lost him again. When I came out of the Bois Renard - with a great downhill - he was behind me again - a guy in the Discovery shirt riding a Trek. I let him pass and he took a turn off the Red route - so he obviously was not following the same track as I did.
I was almost back in Banneux now and only had to conquer one last muddy passage in a dense forest before joining the N606 which lead me towards the N62 again and into Banneux. My Mazda MPS was still where it was supposed to be and I just put the bike in and drove home. It was almost 2pm by now and the sun was at full blast. Apart from the flat tyre I had no major technical worries and even though I felt tired I was not spent. Already planning another ride here soon.





Ride Stats

: 70K and 1565 heightmeters in 4h55mins


Hill Factor

: 22.3



6849/63030



04-08-2007, 18:29 geschreven door Big Bad Wolf
02-08-2007

Blue Orange Red Orange Blue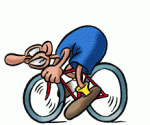 It had rained quite a lot early in the morning up to midday , or so I was told . After a few kilometers offroad I was inclined to believe that. It was not too bad but the going wasn't easy either. I planned to set out on the Blue Meerdael Bloso and in Sint Joris Weert take the Orange arrows that would lead me to Sint Agatha Rode where I wanted to do the Red Overijse BLOSO. This is the toughest one, only 13K but with some nasty climbs and 2 great descents. One with steps and some roots which were wet enough to keep me well focussed, the other one a long hollow road with some puddles that made me have to clean my bike afterwards. I felt good today and concentrated on keeping a high pace after an easy warmup along the first few K's of the Blue Meerdael route, riding towards the Zoete Waters where the route officially starts. On the first climbs I really put the hammer down and was pleased with the result. The 4K of tarmac interconnection between the two Bloso routes I used to keep a good speed and once on the Red Overijse Bloso I really went fast. After the 13K / 200 heightmeters of the Red Overijse I took the Orange interconnection back to Sint Joris Weert where I got back on the Blue Meerdael loop. This is the hilliest of the Meerdael loops and I got onto the tarmac climb along the Polderstraat which is followed by an offroad downhill through a hollow forest road towards the Kluis. Here I had to look out because there where a lot of scouts having the time of their life, doing the things scouts do.
Next came a nasty and steep climb into a beautiful valley up to the Nethen ridge. The forest was quite wet here and the downhill towards Nethen and the Savenel estate was quite tricky.



A long climb in the hollow road next to the Savenel estate wall brought me into the last few K's of the Blue route. Another sticky section. I was almost continually riding on the big ring and it was tough to keep the speed up. But I had a very good workout and must say I am very pleased with my fitness level. I hope to be able to go to Theux this weekend and score some real heightmeters.
Ride Stats
: 43k and 470 heightmeters in 2h8mins
6779/61465
02-08-2007, 20:47 geschreven door Big Bad Wolf
01-08-2007

Easy does it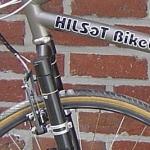 Just an hour or so worth of recovery , it was quite warm this evening and I didn't feel like riding very much further. The legs felt a bit tired too. Hope to go offroad for the remainder of the week. The forecast is for dry weather, perhaps tomorrow some thunderstorms but mostly in the East of the country.
Ride Stats
: 30K and 200 heightmeters in 1h18mins
6737/60995
01-08-2007, 20:31 geschreven door Big Bad Wolf

Use your head - Wear a Helmet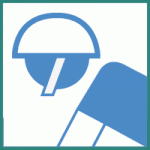 Going biking? Use your head
By Robert Howard
The Hamilton Spectator
(Sep 8, 2006)
Sure, helmets aren't cool to teenagers. But neither is spending your life as a quadriplegic -- or ending it on the hood of a car.
The human body is a marvellous and resilient thing, but the skull and thin membranes that protect our brain are little protection from concrete, asphalt or automotive steel. It doesn't matter, in the end, if a bicyclist or a driver had the right of way. If there's a collision, it's a pretty sure bet who's going to walk away and who is not.
The unpalatable truth is that two area boys would likely be alive today, and another might have escaped serious injury requiring hospitalization, if they had been wearing helmets while riding their bicycles. Those tragedies are just recent examples of a continuing safety issue.
Recent accidents -- and behaviour seen every day on city streets -- show many youngsters are disregarding the provincial bicycle-helmet law, which requires cyclists under 18 to wear an approved bicycle helmet when riding a bike on a roadway or sidewalk anywhere in Ontario.
That law has saved lives -- and saved others from lives of drastically reduced quality or mobility. Wearing a helmet while cycling reduces head injuries by as much as 85 per cent. Riders not wearing helmets make up 90 per cent of fatalities in bicycle accidents.
But the fact is that children and young teens do not appreciate risk or consider consequences the same way as adults. The accident is never, in their mind, going to happen to them. Parents need to insist on helmets.
It would seem a worthwhile investment of resources -- and could save lives -- if Hamilton police were to mount a new, proactive education/enforcement campaign. Some kind of tiered approach of warnings, parental contact, then penalties would be appropriate. (The law sets fines for parents who knowingly allow their children under 16 to ride without a bicycle helmet, while cyclists who are 16 or 17 can be fined directly.)
But helmets are not the only safety issue among the burgeoning bicycle population. Some irresponsible bicyclists give the majority a bad name (and motorists near heart failure) by disregarding common sense and traffic law. Too many cyclists breeze through stop signs and edge through stop lights, expecting drivers to see and yield. They want it both ways: drivers to respect their right to be on the road while they disrespect traffic law.
And here's a fact: A rider in fashionable black on an unlit bicycle after dusk is virtually invisible to drivers, even if there are street lights. A bicycle is required to have lights and reflectors after dark, (and a bell or horn).
The use-your-head safety rules may not seem cool but they save lives: Wear light colours, have working lights and reflectors, obey traffic laws.
Of course, there's no sense using your head if you don't protect it. Wear a helmet -- and insist that your loved ones do, too.

01-08-2007, 18:18 geschreven door Big Bad Wolf
31-07-2007

Do The Skinny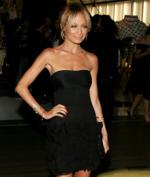 I mounted my Ritchey Tom Slicks on my Hilset because I wanted to see how they performed on this bike. Since I have to put at least 3.5 bar in them to keep them from snakebiting on ridges, I was not expecting too much comfort. From the first meter you can feel the difference in rolling resistance, the Tom Slicks roll like .. well they roll very slick. This makes it easy to maintain the speed. Since the wheels' diameter is considerably less you also accelerate a lot quicker but it is not as easy to maintain the speed . I had to split my workout in two parts since I had to be home for the cats' insuline injection at 6pm. But I managed to squeeze in a good 35K in just over 1h24mins, give the injection and jump on my bike again for another 12K . The weather was great, around 22 degrees C and no wind to speak off. The ride was harsher than with the big 2.1 tyres but it was quite manageable.
The bike looks a bit weird I suppose but what the hell, the skinny tyres perform well and it doesn't look any weirder than a roadbike does.
Of course I dare not ride offroad with these tyres, even the occasional cobbles are a bit of a shake although the frame absorbs a lot.
And it weighs around 8.5kg in this configuration which is a lot of fun on the uphills.
Ride Stats

: 47K and 285 heightmeters in 1h52mins
6707/60795
31-07-2007, 19:49 geschreven door Big Bad Wolf
Gastenboek./.Guestbook
Druk op onderstaande knop om een berichtje achter te laten in mijn Gastenboek. / Press the button below to write in my Guestbook.
Email Me
Press the button to send me a mail