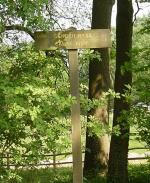 Got an SMS around noon from "Moster Blond" asking if I could join her to do some trail exploring in and around Lasne. Yes, of course I could. She set me on a very tight shedule to join her at the Groenendaal station but I somehow managed to get there in one piece, albeit not as fast as she would have wanted me to be there. Still I clocked my best time ever between home and Filip Sport I'm sure.
Another beautiful hot day and even though my legs felt not that brilliant getting out of bed this morning , once I got on my bike things kinda fell into place. My ReSkin patch is doing wonders for my bum because I did not feel anything after yesterdays' monster ride, and I would be without pain as well today. "Mr. Sensitive" definately has approved these bike patches. Get them if saddle soreness is holding you back, you won't regret it.
What great trails we visited today. MB had a map which consisted of "all trails known to mankind" - or at least so it seemed - around Lasne and its big surroundings. Basically these are hiking trails but they are also explicitely open for bikers and horses. And to make a long story short - some of these little trails were pure heaven, tricky, twisty singletrails - some very narrow indeed - posing some fine technical challenges and generally keeping you focussed on the uphills as well as in the downhills. The landscapes here are so lush and green, and ondulating nicely and in the process providing us with a lot of heightmeters. I really had a blast on these trails today. The interconnecting bits consisted of a lot of cobbles - mmm , I thought all cobbles were situated in the Oud-Heverlee area but I was proven wrong - and some one-car-width tarmac roads. Also a lot of gravel roads which suited me fine, as long as they connected to another wonderful trail.. This really is the posh area south of Brussels . I can't remember seeing a Lamborghini AND a Ferrari driving on the same street within a 100 metres of each other -ever. A knight in a Rolls Royce was very kind to grant us passage and some of the houses here are having lawns big enough to play golf in. We also passed the "Royal Belgian Cricket Club" and behold , some gentlemen dressed in white were walking around aimlessly and throwing balls around between tea-breaks .
Great stuff and I am so thankful to MB for taking me out here today. Only trouble is, I want to go back and have a look at the other side of that map.
Ride Stats
: 89.5K and 815 heightmeters in 4h50mins
3751/30710
29-04-2007, 00:00 geschreven door Big Bad Wolf