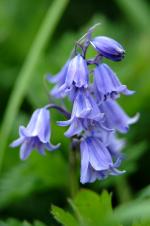 Met up with G. from Latvia today at 3 Fontaines. Together we rode to the Hallerbos where she was clearly awed by the bluebells in bloom. Yes, they were still in full splendor and with the sun peeping out of the clouds every now and then the blue/purple hues were amazing. But Hallerbos is also a very hilly region and we managed to get a good ride in. It had been a while since I was there and I had to get out the map very often to make sure I didn't miss any of the most beautiful spots. We started out as usual at 7 Fontaines but we chose the 'cobbles from hell' instead of the "muddy blob" to make it up to the hilly crest overlooking Hallerbos. A little bit of tarmac brought us to the Colpain area where we dove into the forest and were surrounded by millions of bluebell flowers amidst the trees, their scent sweet and overwhelming.



From there I was trying to find my way over to the southernmost parts of the forest, with some really steep downhills and tricky uphill sections. Still following more or less the track that "Moster Blond" pieced together during her numerous reconnaisance rides of the area. I really missed her today, the last time I was here was with her and it brings back some sweet memories.
But my current company was also very pleasant. G. is a strong rider, and she is quick to learn the technical trickeries of mountainbiking. She also knows by now that my favorite tracks usually go uphill
. Today we rode some 60K and nearly 800 heightmeters together. We said our goodbyes in the Rouge Cloitre area, me thanking her once again for her company and wishing her the very best for the LCMT next week. It will be quite an experience for her I'm sure.
Ride Stats

: 116K and 1145 heightmeters in 6h09mins
2635/21330
25-04-2008, 21:13 geschreven door Big Bad Wolf