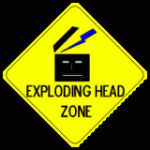 It has been exactly 14 days since I last rode a mountainbike. I experienced a disc slippage in my lower back - L5-S1 to be exact - and have been forced to wait for the pain to reside and - with the help of a kinesist - for the disc, and more importantly the surrounding structures to re-settle where they should be settled. To compound things a bit more, I contracted a cold that has kept me from getting on the rollers a few days more. Yesterday it felt like the kinesist pulled my spine out of my body by the coccyx. Damn, it hurt but it did good also because there was an enormous pressure in the coccyx area that was relieved by that manupilation. I was a bit curious as to how I would feel this morning but I felt surprisingly almost no pain. Just the usual dull tiredness that occurs after cranial-sacral manipulation.
So I got on my rollers for a 30-minute try-out. See how it felt. And it felt fine, obviously my supercompensation has long dwindled away - not helped by the cold - but the legs felt good and my back didn't protest. I was glad to get my mind on cycling for even this short while. The organisation of the Belgian and Dutch championships has taken a lot more out of me - especially emotionally - than I took for granted. It was fun and felt great to be able help out with the organisation of such an event. Even though the resources were limited and the time was short I think that in general we can be very pleased with how things went.
Obviously there are some issues that need further evaluation but those issues are not linked directly to the organiser. Instead , the Belgian Cycling federation should seriously consider updating their
marathon reglementation
. More specifically the part where stayering is forbidden for female participants. That rule is a bit sexist to say the least. There is no mention it is forbidden for juniors, masters or even elites MALE riders to crawl into the wheel of another participant, only the women are targetted by this rule. I know for a fact that a lot of male participants are unable to follow some of the women participants so why this rule? I have been reading the
UCI MTB rules
and have not been able to find anything remotely like rule 5.3 in the Belgian marathon rulings.
Ride Stats

: 11K in 30mins
8126/82035
30-09-2008, 00:00 geschreven door Big Bad Wolf