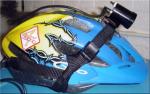 After yesterdays' icy rain and todays milder temperatures I was expecting the forest trails to be a mixture from muddy topsoil and some drier patches under the trees. I decided to put on some fenders on my bike which makes it look ugly - at least to some - but is quite effective in keeping mud and grime from my face and most of my clothes. Obviously when I rode out this evening I put on my helmet light because the night was falling rapidly.
My ride took me around Meerdael Forest, staying as close to the forest rim as possible. I started out in the direction of Blanden , then moved on towards Bierbeek , Hamme Mille and Nethen, where the terrain became more hilly and this also made the up- and downhills a lot trickier because of the slippery topsoil. I stopped at the Dikke Eik - the forests' biggest tree - to make a little picture and noticed when I walked around it how wet this section of the forest was.
The uphill leading out of the valley where the Dikke Eik stands was particularly slippery and demanded my utmost concentration and technical prowess to make it. I saw some horses had been skating here as well, their hooves leaving long stripy imprints in the mud. After Hamme Mille I came in the Nethen area where some more technical stuff made for a very good technical workout. The light was already fading rapidly when I reached the little well next to the Hetraie camping site. I had a little drink and time to take another snapshot.
Another picture was taken and I moved on towards Sint Joris Weert where things became a little easier. After almost 28K I was back in Blanden, having completely circled the Meerdaelbos section of Meerdael Forest. I left out the Kouterbos and Heverleebos sections - it was getting late and I didn't want to overdo my ride either. It was only when I got home that I saw the extent of mud on my bike.
I can only hope it starts freezing again as soon as possible but the forecast calls for rain tomorrow. With 4 degrees C the temperature was very cozy today, the workout on the bike and the shelter the forest provides from the wind made it a pleasant ride.
Ride Stats

: 27.5K and 350 heightmeters in 1h49mins
61.5/760
04-01-2008, 18:42 geschreven door Big Bad Wolf