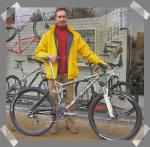 I have not been riding my bike lately since I am recovering from a cold.. I hope to be out and about soon. I think my body needed some time to rest.
Meanwhile I took possession of a new bike, a

Merlin Works 4.0

full suspension bike. I ordered it at the end of August and the frame was delivered by ABG to Filip Sport at the end of September. Filip Sport started the buildup of the bike but I was still lacking one piece of the puzzle, a
Thomson Elite 31.6/370mm silver seatpost.
This choice of seatpost turned out to be a difficult one. There was no silver seatpost to be found in the Benelux and at long last Filip had to contact Thomson USA directly. They promptly delivered the seatpost within the week. Thanks to Thomson for this service and to Filip for not giving up.
Now I am eager to get on the bike, sort out the seating position and brake in the disc pads. But my cold and the rainy weather will delay that moment for a while. But I already took some pictures, you can check them out
here
11-11-2007, 16:57 geschreven door Big Bad Wolf