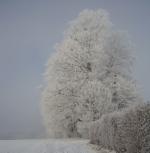 Minus 15 degrees C this morning. Brr. I waited until noon to ride out. I had Johan H. coming over and join me on a ride in Meerdael Forest. Yesterday in the afternoon it had snowed lightly for a couple of hours which did 2 things : send the traffic in Belgium in a major traffic jam and provide us with a beautiful dry snowy landscape. About 5-6 centimeters of the white stuff was waiting for us this morning.
Well dressed and in an average temperature of -9 degrees C we completed a ride that would lead us through the forest and into the fields of Hamme Mille and Valduc. The snow was of the dry kind, it did not stick at all and was very easy to ride through. Care had to be taken of course because of the frozen ruts beneath it. When we arrived in the fields there was an icy cold fog hanging over them. Fog that froze and added to the cristalline snow already on the trees. Beautiful.
When we neared Valduc we crossed the Naamsesteenweg and made our way to Nethen. We entered the Savenel castle gates and I managed to take a picture of the main building before we were approached by a friendly inhabitant who told us to please leave the premises.
We completed the ride riding up the Hercules Salon and then past the Kluis into the Kouterbos and over the Keiberg. Down to the Zoete Waters and into Heverleebos for the last couple of kilometers before arriving at the Prosperdreef. We said our goodbyes and I finished my ride with toes that were numb and the tips of my fingers also quite without any feeling. A good hot bath would work miracles though.

Endomondo track


Ride Stats : 28K and 320 heightmeters (Garmin) in 1h50mins

909/8020
04-02-2012, 17:06 geschreven door Big Bad Wolf