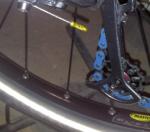 This morning saw a drop in temperatures and it was gloomy and there was a slight drizzle falling when I rode off along the Naamsesteenweg. The plan was to follow this to Hamme Mille and there switch on the N91. I followed that past the Beauvechain airport and Pietrebais until I reached Incourt. Here I took a left towards Dongelberg. Passing the beautiful Chateau I made a mental note to stop here one of these days to try and take some pictures of this majestic building. The absense of leaves makes it viewable from the street and I also noticed a small portal which seems to be open to the public , offering entrance to the castle gardens.
But for now I rode on towards Jodoigne where I joined the Ravel, taking that towards Hoegaarden.With the Ernest Oury straat still broken up, I had to ride past the Villa Hugardis to try and join the N221 towards Tienen. Taking a left turn up the ridge and then a right towards the St-Katelijne Chapel in Sint-Katelijne-Hauxem.
Stopping to capture this building with my Samsung Galaxy S2 and then I rode onwards to the Marollen Chapel. Here I took a left and crossing the Waversesteenweg I reached Hoksem where I stopped again to take a picture of its two-pronged church.
The pictures where taken through the Vignette for Android application and some post-preocessing filtering was done making them a little more gloomy and vignetted. From now the wind was blowing against me but at least the drizzle had stopped so I could concentrate on riding back to Meldert along some smaller trails. From Meldert I rode to Willebringen and then into Neervelp and onwards to Bremt, Bierbeek and Haasrode. In all a very nice distance and my legs felt better than yesterday. My average heartrate was also 12 bpm lower than yesterday which could be due to the lesser wind.

Endomondo track


Ride Stats : 61K and 515 heightmeters (Garmin) in 2h50mins

1321/12490
26-02-2012, 14:27 geschreven door Big Bad Wolf