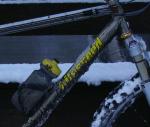 Last night temperatures dropped to -7 degrees C, so the snow got freeze-dried. This made fot a HUGE difference in ride-ability today. The tyres of my Litespeed liked the crackly snow, the water was gone, and except for the big roads, the trails were amazing. Offering good grip and not dangerous at all. I wanted to have another big shot of heightmeters today so I set upon riding my Meerdael climbing. Taking my time, focussing on riding almost surgically into my own trail I rounded the loop 9 times. I did the 3 climbs in succession this time. After some 33K and 1050 heightmeters I was ready for part 2 of todays' activities.
Yesterday I met Koen Viaene of Poco Loco and made an appointment to join them at The Kluis today. There was a meeting organised by Poco Loco and Broederlijk Delen, bringing together the participants of a Burkina Faso adventure. There would also be a chance to test-ride one of the already famous Sandman bikes. When I arrived around 2pm it was pretty busy with people leaving for a GPS trip in and around Meerdael Forest.
There were a lot of Sandman bikes on display and I arranged to ride a green Atacama, the non-butted alu entry model. This bike was fitted with a beautiful Maverick SC32 suspension fork and big 200mm disc brakes. And obviously also sporting the chunky Surly Larry 3.8 inch tyres. The handlebar was a bit too high for me, and seemed very wide.
So I set out for another 3K/115heightmeter lap on this bike. The tyres were at a little less than 1 bar. At first the high and wide handlebar bothered me. I would certainly put it lower. But the width is actually needed to steer this bike around. The big tyres offer great traction and comfort, this bike actually seems to float over all the obstacles. The snow didn't bother it at all. The step upwards in comfort and sheer ride-ability is perhaps even bigger than going from a non-suspension bike to a full suspension bike.
The big brakes offered good speed control because I was going a lot faster downhill than with my V-brake Litespeed. In the uphills the bike just moves forward, it is not as lively as with normal 26 inchers and a bit reluctant to turn . In that aspect it resembles a 29 incher, which of course in terms of wheel circumference it equals or surpasses. The wide handlebar really is a plus here, and after a bit of getting used to I could make it turn just the way I wanted it to turn. But with this bike, getting off of the perfect line is no problem. Just pedal and the broad tyres take you where you want to go. Great experience.
I heard that they will make a small batch of titanium frames. When I thundered down the long straight downhill towards the Kluis I decided to take a small singletrack going up to the parking lot again. This is a very steep track with several steps and of course, no-one had been here so the snow was fresh. The big tyres showed their limits here traction-wise when I had to take the steps but I made the climb without any trouble. I was seriously impressed with the way this awkward-looking bike handles and feels. It must have weighed more than 13kg but the weight didn't bother me for an instant. It makes up the weight penalty with enormous traction, comfort and handling. Seems like a good thing. If you have the chance, try to test it.

So , with another lap I nicely surpassed the 1200 heightmeters mark today. The average temperature of -3 degrees C didn't bother me at all during my long ride. I was well-protected and obviously the climbing kept me well-heated as well. Good workout and a nice experience with a new concept in biking.

Ride Stats : 40K and 1270 heightmeters (Garmin) in 3h44mins

8923/98450
18-12-2010, 17:29 geschreven door Big Bad Wolf