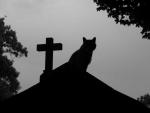 This morning I hit a cat. It was crossing the Leuven ringway at full speed at the exact moment when I arrived there, doing 70kph and having no way to avoid it. I felt the slightest of bumps and when I looked into my rear view mirror I could see it twitching and crawling on the abandoned street. I can only hope that I hit it hard enough so that it didn't suffer too much. The visual image of that poor animal stood by me the whole day long.
Since I have a cat as well I am more concerned than the average person it seems. At work I mentioned I hit a cat to a few people but nobody seemed to take much notice. It was as if nothing had happened. They reacted the same when I told them almost 5 years ago that our cat had diabetes and that we could only save it by giving it two adrenalin shots every day.
'Oh my' , 'will you really do that' , 'it's only a cat, why bother' , where some of the nicer reactions I got. They just don't care. Some of them really pissed me off and I made sure that they noticed I was mad at them. They are to me lesser people and will remain so for the rest of our professional dealings together.
So this evening I was looking to do some penance. I will be extra friendly to our Rambo for starters. Yes, he is still alive, thanks to us wanting to give him two adrenalin shots a day. He is hitting 14 years now, diabetes and all.
When I left home it was raining very slightly but when I reached Hamme Mille the rain subsided. There was a strong westerly wind blowing in my back when I looped over Nodebais towards Beauvechain, Opvelp and Neervelp. Having reached Neervelp I made for Bierbeek when it started to rain again. The streets were getting wetter by the minute and the wind - which was now blowing from the left side - didn't make things any better. My rear fender was not sufficiently big to stop my backpack and lower back from getting wet. When I looped towards Haasrode the rain subsided a bit but I had wet streets until I was home. Good, some penance to clear the bad karma I accumulated this morning. And now our Rambo is in for an extra treat.
Ride Stats

: 30.5K and 260/256 heightmeters in 1h23mins
9383/90285
27-11-2008, 18:13 geschreven door Big Bad Wolf