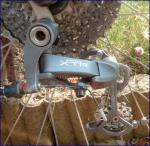 Time for a little more technicality in my reacquantaince path on the mountainbike . So the Overijse BLOSO routes come to mind. Called the "2 Valleien Route" this 34K offroad track connects 2 valleys ; the valley of the river Ijse and the valley of the river Lasne. Ondulating up and down on the flanks. Nothing too tricky, steep or long , but just enough technicality on the downhills to catch the unaware or overzealous biker.
Unfortunately I am neither, and I fully enjoyed riding on these trails again. They were dry and fast, with an occasional puddle and some obstructions in the form of farmers harvesting their fields, or community workers filling up some holes in a field track.
The day started out misty but in the afternoon the sun came piercing through the clouds. I had a first stop on a small track overlooking the village of Huldenberg. Stowing away my windbreaker and checking the tension in my tires.
Taking a couple of pictures and then moving on to reach Overijse and from there through the Reutenbeek valley and up to the edge of Wavre and the Province of Brabant Walloon . Here a big tree had fallen over the trail. Too high to bunny-hop, so I stopped and climbed over it.
Coming closer to Ottenburg, where the tracks become more technical, with some nice downhills. The rains and storms did do some damage, but nothing to disturb my confidence. I was more worried by the high grass in some places, grass that was hiding edges and other stuff that can wash away your front wheel.
Taking a little break near the ferme de Bilande, on a bridge over the river Ijse, I ate a Cliff bar and strengthened myself for the last couple of climbs before I would reach St Agatha Rode again, where I left the route to ride back to Meerdael Forest. The sun was out now and I thoroughly enjoyed being in the crisp and clear forest air. I saw no horseflies so I think they must have gone. The next couple of days a little Indian summer is forecast.

Endomondo track


Ride Stats : 55K and 645/715 heightmeters (Polar/Garmin) in 2h52mins

10285/85755
23-09-2011, 15:31 geschreven door Big Bad Wolf