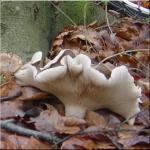 Today I rode in the Meerdaelwoud. I did the 3 BLOSO routes, but in the opposite direction. Quite a few bikers on the trails and also lots of walkers in the forest. I noticed to my joy that the arrow that had been missing since before this summer, has been replaced, so my mails to BLOSO have had effect. I guess it was just a matter of finding the right person.
Good ride I had, the tracks were damp but never wet so my tyres of choice, the Nokian NBX Lite, was an excellent choice. Made some pics of big paddos (check pictures next to this article) and of course also of the
new arrow
on the

red

route.
On average I had a temperature of 3 degrees C but the cold wind from north-eastern origin made it feel a lot colder. Someone left the Siberian freezer-door open I guess.
Ride Stats

: 55.5K and 495 heightmeters in 2h48mins

Oh, by the way, I passed the

12000K

mark for 2006 today, my yearly aim is to be at a 1000K/month so that aim has been reached.

23-12-2006, 19:14 geschreven door Big Bad Wolf