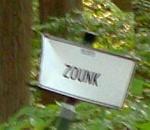 Had an appointment with a couple of colleagues from work to ride in the forests around Hoog Linden , Kessel Lo and Holsbeek. I left from home and had to cover a 11.5K distance to meet with Koen L and Bert VH at the church of Linden. When I crossed the Diestsesteenweg and covered the last kilometer I was passed by a girl on a Mobilette. She had a white helmet with a bold black text on the back of it, written with a black felt pen : "Hello I am Eva XXX" it said . I smiled and put myself in her wheel to take advantage of her slipstream. She had noticed me in her rear view mirror and when we made eye contact I saw a twinkle in her eyes. She must have known that I had just read the message on her helmet. I had to put up with inhaling some of the smoke of her cigarette but I didn't even mind. When she veered away to the right just before we were at the Linden church, I raised my hand as a way of thanks. Eva X has made an impression.
The church bells were chiming the 6pm tune when I met with my 2 bike companions, who were already ready and waiting.
Koen and Bert know this area very well and Koen had volunteered to guide us along the many hills and descents of the forests. We left and the fun started right away. Steep uphill into the Bleekbos over roots , followed by a fast downhill only to turn and ride up the same hill again. The pace was fast from the beginning and I quickly noticed both of my companions were masters in controlling their bike. Obviously some knowledge of the area helped but even then, the biker level was high.
Koen certainly knows his way around here, we did an amazing succession of tracks, some very steep hills, including the world famous "Zounck" which surely lived up to its reputation as being one steep SOB. I made it - just - and noticed later that my GPS indicated a 26% slope.It certainly felt like that.
Koen also incorporated some nice singletracks , with twists and turns that had us work hard to control our bikes. Some of the downhills were very steep and I grazed my rear wheel a couple of times with my buttocks in order to keep my weight far enough back. I felt the tracks were nearly perfect, a little moist but not wet, offering almost perfect traction. Also on the steepest downhills, the wheels just kept on turning instead of slipping. We encountered some strange sights, like black sheep in some kind of reserve and trees that were painted white to a certain level height.
I wasn't surprised to see that we nearly had 650 heightmeters on the 30K ride. The many hills were short , steep and sweet. We did cross our own tracks a couple of times when we crisscrossed through the Chartreuze forest, Kloosterbos, Sint Gertrudisbos and Saint Geertruibos. Roughly located between Linden, Kessel Lo and Holsbeek. Or how to have a vast amount of fun on a limited area. When we were nearly 2 hours under way we decided it was time to turn back to our starting point. I still had to ride 12K and also Bert wasn't home yet.
We made our goodbyes and I rode back home, taking the GR track following the Heidebloempad over the Trolieberg as an added bonus.

Ride Stats : 54K and 810/940 heightmeters (Polar/Garmin) in 3h10mins

3914/41260
28-05-2010, 22:22 geschreven door Big Bad Wolf