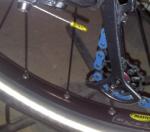 Another beautiful sunny day and when I got home from work I decided to ride out on the Hilset BBW. I rode through Meerdael forest towards SInt Agatha Rode where I picked in on the Red Overijse Bloso. This is the toughest of the 3 Bloso routes and incorporates a fair bit of climbs. Before long I was grinding though the gears on one of the steep uphills. The bike is making some cling and clang noises that seem to be originating from the bottom bracket area. Still, when I stop pedalling it keeps making the same noises. I have checked all the usual screws but to no avail. Anyway, on with the ride. I found out today that the Hutchinson Python also has some disadvantages. During hard braking in the downhills it tends not to offer a lot of stopping power. This may be due to the lack of big knobs. On one particular downhill, the steppy one at the end of the Losweg out of Ottenburg, I really had to take care because the lack of suspension doesn't give one a lot of margin for error.
But before long I was grinding up the hill again, accompanied by the now familiar noises of my bike. Before dropping down into Florival I took some time to eat a Cliff bar , enjoying the sun in my face.
Another couple of hills and I was back at the point where I had injected myself on the Bloso track. From Sint Agatha Rode towards Sint Joris Weert.
Here I had an unfortunate accident involving a young girl. I was riding uphill towards the Kluis when the girl suddenly emerged from behind a car that was slowly riding downhill. I had no time to avoid her, not even time to reach for my brakes. My bike was stopped by my front wheel shafing against the inner legs. She bit back the pain and ran towards the car. The woman driver must have been either her mother or the mother of a friend. I stopped and looked at the woman but there was nothing much I could do. Fortunately I was riding uphill so my speed must have been no more than 10-12kph but still I pity the poor girl.
Riding on towards The Kluis and then along the Paddenpoel on the Denteneerpad. I stopped to look at some weird looking trees and took some pictures.
Riding on towards the Weertse Dreef and for a last loop with a strong uphill section where I really put down the power. Legs felt strong today despite this being the fourth ride in a row. Good workout with some good power sections uphill.

Endomondo track


Ride Stats : 36.5K and 475 heightmeters (Garmin) in 1h43mins

2177/22220
27-03-2012, 20:12 geschreven door Big Bad Wolf