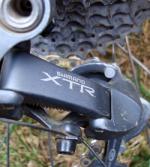 Moots Time ! Yesterday I cleaned the Litespeed Obed and put it under covers. It should remain there until late fall, when the weather will be foul again. Now the Moots and the Merlin come out, for those epic spring and summer rides.
Wanting to do a long ride , but not too much heightmeters, I chose the O2 Bikers Taalgrens roadbook. This is 80K long and couples forest and field together in one long ride.
With the Moots I also have disk brakes and No Tubes, which means I can go faster downhill without worrying too much about flattening my tyres . Sure, it can still happen , but not as easy.
The first 20K of this roadbook is a great succession of forest and hilly fieldtracks. Starting at the Zoete Waters the trail goes into the Meerdael Forest for some nice lesser-used tracks, coupled to a tricky descent here and there. Unfortunatelt, forest exploitation is still going on and on one track I had to find a way around a jungle of fallen trees.
It is here that a GPS is of invaluable worth. Just check for alternative trails and you quickly find one that brings you back on the track. But the alternative trail was also very difficult , lots of deep tractor and heavy machinery ruts . But the Moots is a fine little bike. The Chris King rear hub gives it near-instantaneaous reaction to pedalling movement, so you can really be very confident on twisty and difficult trails. So I zigzagged around fallen trees, through deep ruts and over crosstrails. I emerged near the Hercules Salon where I was treated to a magnificent downhill towards the La Hetraie camping. Crossing the road and into Beaumont for another great section of hills, hollow roads and cobblestones taking me up towards Bossut and then back down towards Nethen.
Crossing another big road and I am in the fields of Gottechain. The sun has come out and is giving me a bit of warmth, much needed because it isn't really that warm. A little breeze is blowing from the northeast . It will keep me company throughout the ride. Nice passage in and out of Pietrebais and I'm into the fields. Every now and then there is a challenge in the form of deeply rutted trails - you DON'T want to do this roadbook when it has rained ! - or a descent in a deep hollow road. The field tracks are dry, dusty and hard on bike and man. The trail here as a major tendancy to loop around in search for extra kilometers. They might have wanted to focus on ding some more technically challenging stuff but obviously they did not want to make it too difficult - besides it being 80K which really is difficult and challenging enough for most.
But my aim today is getting a long ride in, so I accept this. Grabbing the occasional technical passage with both hands, just to have something else to do than avoiding potholes on the endless field roads.
On a beautiful descent in a hollow road I am stopped again by what looks to be a jungle of fallen trees. No way through, and no way around.
So I have to ride back up out of the track - yippee, extra heightmeters - and do the descent on a cobble road. Bummer. Into St Remy Geest and then onwards to join the track again back into the fields. A nice loop down a deep hollow road again, followed by a long climb back upwards, in another hollow road. And then more field roads. After what feels like a 100K of desert I see at last Meerdael Forest looming on the horizon. Phew, I made it. So glad to see some trees again and ride in the shade. I do a little dance upon entering Meerdael Forest. I really wanted to get off my bike for a couple of minutes because my neck and shoulders are painful from the hammering on the field tracks.
With renewed spirits I complete the last 10K in Meerdael Forest. There are a lot of walkers, bikers and horses about but everyone is very friendly when greeted. In the fields around Lathuy and Jodoigne I was passed or crossed several times by jeeps, which seemed to be on some kind of GPS tour. They all were very attentive, stopping when I crossed them (to avoid the dust ! ) and at one point I just was faster on a deeply rutted downhill than they were. Ah, a small victory from man and bike over machine and horsepower.
Upon arriving at the Zoete Waters I only had 5 more K to ride back home. A good long ride and I am very pleased with my average and heartrate. Ok, trail conditions were nearly perfect, dry and fast, but still I rode well. Two 5-hour rides this week. Need to relax a bit next week for sure.

Ride Stats : 94K and 790/900 heightmeters (Polar/Garmin) in 5h14mins

847/9415

27-03-2011, 18:10 geschreven door Big Bad Wolf