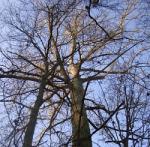 Last night temperatures dropped considerably below zero for the first time this winter. I had a day off from work so decided to take my chances and try an offroad ride again. The Litespeed was equipped with a new Middleburn 36 tooth middle chainring, a new chain and a new XTR 12/34 cassette in the back. Shifting went smoothly but I had to get used to the Middleburn not gripping the chain quite as well as TA chainrings, when shifting from the 26 upwards. It needs just that little split second of holding back the power when shifting, otherwise it wouldn't lift the chain.
The forest was cold when I entered it. I saw -2 degrees C on my Polar and had an average temperature of -1 degree C throughout the ride. But as I had guessed, the mud was mostly gone. The overnight freeze had taken care of that. The earth was stiff and the puddles were still frozen up. So that made for a great surface to ride on. I set out on the Meerdael BLOSO's. Starting with the blue from Blanden in the opposite direction.
At the crossing with the Red Bloso I took the Red but this time in the right direction. I added a few extra loops here and there just to check out some trails and add a couple of extra climbs. During the first half hour I needed to get used to the cold temperature but after that I felt just fine. I had chosen exactly the right amount of clothing and my mitts and waterproof socks with inner socks protected my extremities from the cold. Obviously I wore a windproof bonnet under my helmet.
The ride went fine, I took a picture of the tallest tree in the forest, from out in the Valduc plains, and passed close by that tree a while later to take another picture of it, and its twin brother that broke in two during a storm. I call them the Twin Towers. They are situated not far from the Dikke Eik, another leviathan in Meerdael Forest.
After completing the Red I continued along the Blue, again in its opposite direction. I added a couple of climbs in the Nethen region to keep my inner fire well and truely burning. After a very intense section I switched over to the Green BLOSO in Heverleebos to finish in a more relaxed pace and with less height differences. When I arrived home, it was already getting below zero again, another cold night awaits us.

Ride Stats : 61.5K and 670/755 heightmeters in 3h47mins. -1 degree C average temp

9413/97975


14-12-2009, 16:52 geschreven door Big Bad Wolf