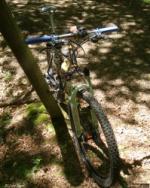 High time I got Mr.Merlin out of his winter sleep and put him to use on some trail. What better trail to start out on than the Nandrin ones? Indeed, the weather was sunny and it seemed like it was going to be a hot day. A little wind was blowing when I arrived at the town square of Nandrin. I have known these trails for more than 10 years and after all this time I still look forward to riding them. I usually combine 2 marked trails - the White and the Red - for a distance of around 45K. Throughout the years I have found some extra challenges to this already tough ride and today I was going to try out some new stuff as well. This ride is not really an Ardennes ride, it sits in between pure Ardennes and the hills of , say , Brabant Walloon. The hills are longer, higher and sometimes steeper than in Brabant Walloon but not as long and high as in the real Ardennes. Still, it is an excellent training track or just plain beautiful, especially after a period of dry weather.
Don't bother riding these trails if you don't have the trail map or a GPS with the track on it. The arrowing has faded away over the years, no one bothers to replace them and the trail map cannot be found any more. I got my copy in 1999 or thereabouts and the shop where I bought it no longer exists. So there you go. Good thing I like to share trails. You can find todays GPS track at the end of this blog entry. Either copy the track on a map or if you are lucky enough to own a GPS, just download it and upload it to your device.
The tracks were amazingly dry today. I always am a little weary when I ride here. There are a couple of places where mud can be an issue. But not today. The trails were fast and the Merlin was speeding down the long downhills like a silver bullet. Groaning through the gears when another uphill announced itself, with the sun burning a hole in the back of my helmet. Good thing the track nicely alternates between forest and field. When I reached the valley of the Ruisseau du Neufmoulin the trails really become among the most beautiful I have seen in Belgium. This little secluded valley offers a multitude of trails, all going up - or down - a 120m slope. Today I tried another loop, first slaving my way up the slope on a very steep track, then turning to the north until I reached a downhill I discovered last year. Then I had to walk because I was going uphill and the trail is really difficult, with stones, ruts and horses hooves aplenty. But riding downwards it become do-able. When I reached the bottom I had to include a short stretch of tarmac before disappearing again into the deep forest. Following the rivers edge I arrived at the bottom of the climb the red route usually takes. I took some time to eat and drink, I would need it for the upcoming climb!
Steep, rocky and long. I love this climb. The Merlin offers good traction and I had good legs so it really went well. I then turned towards the south and instead of going up to the rocks I decided to ride down a walkers trail, steep and twisty. But what fun to be able to control the bike with the brakes and take the twisty path all the way down to the rivers' edge again. From here I followed the red trail again, the legs were tiring nicely and I still had 3 major climbs to do. Steep and narrow tracks along the edge of some fields for the first 2 climbs, and then a long rocky track through a forest for the last climb of the day. Arriving in Scry all that is left is a bit of tarmac connecting to a track that leads nicely back into Nandrin. I included some pictures with this writing, but if you want to find some more, or just want to read about my past adventures on these trails , just enter 'Nandrin' in the search window of my blog. That should turn up some tales from years past.


Ride Stats : 50K and 885/910 heightmeters (Polar/Garmin) in 2h57mins

4113/43870
05-06-2010, 18:08 geschreven door Big Bad Wolf