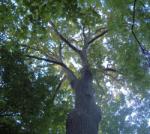 Yesterday was the hottest day of the year. Temperatures soaring way over 30 degrees C - 34 degrees in Ukkel and a record-breaking 38,2 degrees in Kleine Brogel. No way you could go out and bike in that kind of weather. The heavy thunderstorm that reached us in the early evening dropped the temperatures by 25 degrees and cooler air reached Belgium after that.
So today evening it was great biking weather. The warlth got washed out of the skies and the trails were moist but not overly wet. I took the Moots out for another exploratory ride in Brabant Walloon. But since the weather was more favorable I made it a much bigger loop than last wedsnesday. Starting out in the usual way over Nethen, La Malaise, Bossut and Archennes and then making my way to Gastuche and over the crest towards Dion. Having a bite to eat near the two Chapels close to Wavre and then I was following the big road to Perwez for a while to arrive in Dion Valmont. Here I spotted some white arrows pointing into small tracks and decided to try and follow those for a while. With my GPS on I could see they were actually leading somewhere so I discovered some interesting new singletrails. Pity some of the trails are barred by neighboring owners. They just put a gate in the middle of the track, sticking a ' Propriete Privée' sticker on it and be done with it. I once rode into what looked like a road going somewhere only to find a gate on the far end. The owner of one of the houses next to the road rode up to me - he was sitting on one of those big lawnmowers, people are generally well off in this area - and began making a lot of noise. Not to be shaken I told him my GPS indicated a road implicating I had every right to be here. He gave up and motored away while I opened his gate and let myself out into the other side of the road.
Some of the tracks were real jewels, in downtown Dion le Mont - or it might have been Dion Valmont - I found a little track starting off between a high wall and a dark patch of forest. Going up very steep , going down again and up once more before arriving at a busy road. Crossing the road there was a flight of stairs going down - I didn't ride those - and the track meandering again uphill. The heavy rains had cleared most of the tracks and left a hard trail, sometimes debris and washed-out holes made things a bit technical but also added to the enjoyment.
Making my way into another garden, the owner pointing me in the right direction in a very friendly and bilungual manner, I slowly arrived in the neighborhood of Bonlez. Here I encountered some more familiar trails from the Accro Bike or other O2 Bikers roadbooks. I felt good throughout the ride and decided to make a big loop here before slowly returning towards Biez and Cocrou. The heightmeters were accumulating nicely but I still was surprised at the amount when I arrived home. I included a loop in Gottechain - sister town to Bossut - and nearly rode the church stairs. But I chickened out at the last moment. Stairs don't agree with me unless I am on a real full suspension bike. After Gottechain I made my way towards Hamme Mille and Valduc before entering the Meerdael Forest for a quick visit to the Dikke Eik and then returning home over Hoog Blanden. I had a very agreable ride and was a bit surprised at my fitness level. Not feeling very strong in the beginning but getting better throughout the ride.

Ride Stats : 60.5K and 810/975 heightmeters (Polar/Garmin) in 3h34mins

6317/61225
21-08-2009, 23:55 geschreven door Big Bad Wolf