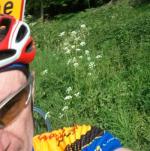 Got the track for the Gambrinus 105K ride starting from Leuven from my friend Roger, and today looked like a fine day to try it out. I have no way to attach my Garmin 705 to my bike but I would grab it out of my back pocket when I needed it.
Through Vaalbeek and next to the Zoete Waters , then Korbeek Dyle and a bit further I picked up on the track. The weather was promising to be hot and sunny so I took the precaution of applying sun lotion on my arms. Sun lotion before Easter, the world is indeed heating up it seems.
The track made its way towards Leefdaal, Vossem and Duisburg. Towards Maleizen a first climb announced itself. It would certainly not be the last. Dropping into La Hulpe, riding towards Ohain and Genval I had to look at the GPS frequently, sometimes even stopping to keep things safe. I was riding a bike in traffic after all. Some nice backroads and bigger roads brought me into Lasne, where it was rather busy in the town centre.
The track was now climbing and descending all the time as I rode towards Couture St Germain. The highest gear needed to go on and still the hill was very steep. Then I arrived in Ceroux Mousty and had a nice long drop into Ottignies LLN. Busy town traffic again and I took a wrong turn somewhere. Half way the hill I looked at my GPS and saw my mistake. Turning around and I was on my way for a nice passage through the forest in Limelette. Very steep hill again and then a bikepath through the Bois du Manil. Nice. I had a bit to eat and then the track dropped me down into Limal. Climbing again to Rixensart before arriving at the Lac de Genval. Lacs are mostly in the deeper regions so indeed, a new and steep uphill, this time bringing me on the road to Maleizen. From here I was on familiar grounds and I could guess which hills they would include. I left out a steep one going from Archennes to Bossut, instead riding a bit further towards de Chaussee de Wavre where I did the same hill but with a lesser slope. The Rue de Pecrot climbing out of Pecrot towards Nethen finished off a great succession of climbs. When I arrived back at the Zoete Waters, the counter gave more than a 100K so I did another century ride on the Vortex. I leave you with the map and the GPS track if you want to try this ride yourself one day. There are NO markings on the road so you need the track to find your way around.


Ride Stats : 107K and 975/1100 heightmeters (Polar/Garmin) in 4h16mins

1875/19945
22-04-2011, 16:37 geschreven door Big Bad Wolf