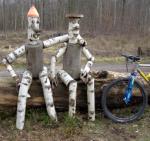 Felt like doing a big ride today. The weather forecast looked good - dry with a hint of sun , no wind and temps going over 10 degrees C. The Litespeed Obed was my chosen weapon for today. I started out through Meerdael Forest towards the Zoete Waters and further on to Korbeek Dyle. There I climbed up the ridge looking out over Bertem and made my way towards Leefdaal and Duisburg. In Duisburg I entered the Sonian Forest, and the next 15K or so would see me ride towards the Middenhut and the Zonienwoudlaan in Rode St Genesse. My first stop here to make a picture of the two wooden folk sitting on a bench. I would have liked to sit myself next to them but I couldn't find a suitable spot to put my camera to make that picture. Next time I must ask one of the passer-bys to make that picture. The weather was - as promised - very clement as I rode the Zonienwoudlaan towards Dworp. Here I made my way towards the outskirts of the Hallerbos. I entered this forest an made a big loop through it. But first time for a little snack at a hide-out and some more pics.
I now made my way towards the other side of the forest, coming back alongside Colipain. Then I rode out of the forest on the road parallel to it, to drop down over the cobbles from hell alongside the Zevenbronnen Castle wall. These cobbles must be ridden to believe how bad a road can be. Luckily in this direction its downhill but they still are dangerous enough to trip the unexpecting biker off of his bike. Care must be taken, especially where to touch the brakes. Next to the Sept Fontaines lakes and I was back on my way upwards towards Dworp and Sint Genesius Rode. On my way back I made an extra loop into the Sonian Forest - forever thanks to Moster Blonde who taught me all these little loops - towards the 3 Fontaines. There I chose to ride alongside the busy highway towards Jezus-Eik. Here I could enter the forest again, along the Kapucijnendreef where I had a second rest stop to have a little snack and, you guessed it, make a couple of pictures.
After Duisburg I made a little extra loop over Leefdaal - adding a climb - and then made my way back over the small tarmac roads towards Korbeek Dyle. I had a good ride and I felt very strong throughout the entire ride. The two snacks must have helped. I would have liked to do some more tracks in Hallerbos but the forest itself was still very wet, and there were a lot of forestry works with fallen timber and big gullies from the machines. The roads in the Sonian Forest were a lot more rideable, as usual, but not entirely dry yet. Still, dry enough for me.

When I arrived home I was very glad to have done my first 90k+, 4h+ ride of the year.
Ride Stats : 93K and 775/785 heightmeters in 4h21mins
1236/9200
28-02-2009, 00:00 geschreven door Big Bad Wolf