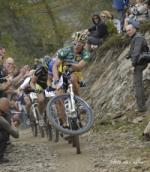 Today was RACE DAY. Got up early, had a very elaborate breakfast and then went to the Press Office to get the World Cup Elite Men and Women entry lists and also the results from saturdays' races. Met a couple of acquaintances from mountainbike.be and also saw Fons Moors and Christophe Meurice from O2 Bikers in the well-filled Press Centre.
I decided to concentrate my efforts on the big downhill/uphill near the Gare des Pompiers in the Rue de La Roche but first I went to the start area to take some stills of the Women before they got underway fro their 3 lap race. Actually this means 3 and a half laps because they do a short start loop and then a full 3 laps. This amounts to around 25K of tough Houffa racing . When the women were underway I followed Marga Fullana's trainer to the area I had chosen for my pictures. Seemed like Marga was on a roll because she rode in the lead from start to finish. Catherine Pendrel of Canada took second place and China's Ren Chenqyuan took third. Some good performances also of Italian girl Eva Lechner Lisi Osl of Austria. For Full results please consult the UCI website or www.canadiancycling.com which usually offers very good coverage and picture stories.
As for the Men, we had to wait for a couple of hours between the two races but in the meantime I had a look at the Trials area where Kenny Beleay was participating in a demonstration contest. Amazing the feats these riders accomplish on their bikes.
I moved back up the hill for the start of the Mens' race and saw a great race. The Men had to do 5 full laps and the start lap which should amount to 40K of racing. I saw Julien Absalon take a well-earned victory . Belgians' Roel Paulissen took 10th place but the winner of the day must surely be Filip Meirhaeghe.

He rode his last World Cup race today, on the circuit that brought him glory in 2000 and thanked his fans by pulling some nice wheelies and greeting them as he passed us. Thanks Filip for the fine years you gave us.
04-05-2009, 19:26 geschreven door Big Bad Wolf